Makita EN7350SH MM4 4-Stroke Single-Sided Hedge Trimmer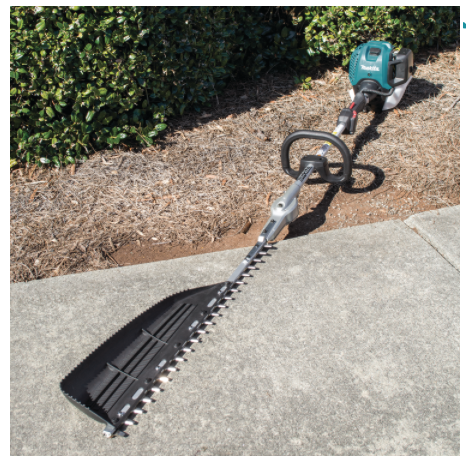 The Makita 25.4 cc MM4 4-Stroke 30" Single-Sided Hedge Trimmer (model EN7350SH) delivers power and ease-of-use for commercial duty applications.
The Makita 4-stroke commercial duty engine requires no fuel mixing, and delivers a high blade speed (4,200 SPM) for efficient cutting. For added convenience, the trimmer is engineered with Mechanical Automatic Engine Decompression for quicker, easier starts.
In addition, the commercial duty dual stage air filter with large sealing areas is replaceable and easily accessible. The oil filling port and drain plug are easily accessible with oil level view window for easy checking and replacing of oil.
The EN7350SH has a steel drive shaft for less vibration and longer equipment life. Additional features include a molded throttle assembly with wide grip throttle trigger for reduced fatigue, and an easily adjustable handle configuration for improved balance. The EN7350SH includes a 30" single-sided blade for a range of trimming applications.
Chip receiver for efficient collection and clean-up of clippings
Steel drive shaft for less vibration and longer equipment life
Powerful fuel efficient 25.4 cc (1.1 HP), MM4 commercial duty engine
Commercial duty dual-stage air filter with large sealing areas is replaceable and easily accessible
Compact design with less weight (only 14.7 lbs.)
Commercial duty gear case engineered for improved durability
Oil filling port and drain plug are easily accessible with oil level view window for easy checking and replacing of oil
Captured control wires engineered to prevent snagging for improved durability
Multi-position lubrication system enables engine to be inclined to any angle for continuous operation
Ergonomically designed rubberized soft grip provides more control and comfort