Malco Products C-RHEX Drivers in Millimeter Sizes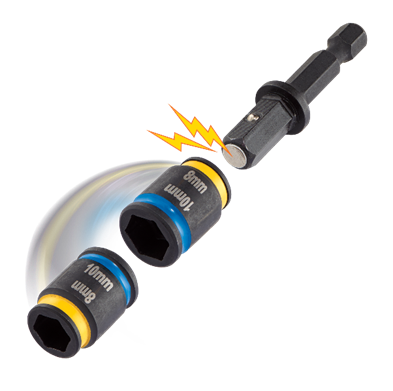 New hex sizes include 6- and 8-millimeters and 8- and 10-millimeters for enhanced flexibility in the field.
Malco Products, SBC, one of the nation's leading manufacturers of high-quality, American-made tools for professional use, launched a new line of C-RHEX Cleanable, Reversible Magnetic Hex Drivers featuring 6- and 8-millimeter, or 8- and 10-millimeter hex sizes to enhance productivity and flexibility on the job for trade professionals.
Designed with trade professionals in mind, Malco's cleanable, reversible magnetic hex drivers do double-duty with "2-EZ Technology" that ensure the right size hex drives are always at-hand. Featuring single-piece strength and color-coded grooves for easy identification, it's the perfect companion for trade pros.
"Malco prides itself on inventing and innovating new products to save valuable time and effort for hard-working trade pros in the field," said Nancy Gunnerson, Malco marketing manager. "These new C-RHEX sizes are designed to answer the requests we've received from the field to expand the line to include additional, smaller sizes."
Available in three lengths (2-inch, 4-inch and 6-inch), C-RHEX millimeter hex drivers are quick to set up and change between sizes, while the driver shank remains installed in the drill chuck. Built with S2 hardened steel for long life and superior durability, these C-RHEX drivers feature an indestructible, easy-to-clean magnet to attract sheet metal shavings that can be quickly removed with the swipe of a glove or towel.
These new models will join Malco's existing line of best-selling 5/16- and 3/8-inch and 1/4- and 5/16-inch C-RHEX drivers, which Malco enhanced to feature a slimmer profile earlier this year. Malco's 5/16-inch and 3/8-inch C-RHEX Drivers recently earned Gold recognition in the Hand Tools category in the 2020 Dealer Design Awards Program, sponsored by The Air Conditioning Heating & Refrigeration News magazine.
For more information about Malco and the full line of C-RHEX drivers, visit www.malcoproducts.com.