Malco Products Impact-Grade Magnetic Chuck Drivers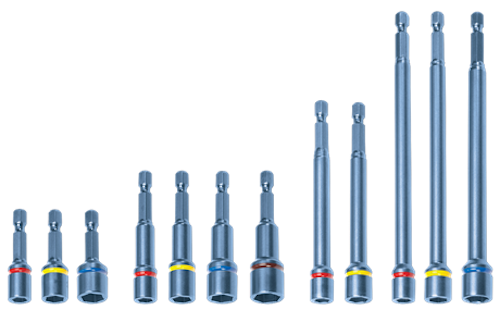 Malco Products, SBC, one of the nation's leading manufacturers of high-quality tools for professional use, recently introduced a new line of Impact-Grade Magnetic Chuck Drivers that drive screws faster and easier than any other tool.
Malco's Impact-Grade Magnetic Hex Chuck Drivers are a distinctive blue color, signaling performance quality that can withstand the kind of impact driver stress that is characteristic for each fastening application.
"Malco is celebrating 70 years of innovation in 2020 and these Impact-Grade Magnetic Chuck Drivers are just one example of our continued dedication to a culture of continuous improvement and to producing labor-saving tools of lasting quality and performance," said Mardon Quandt, Malco president and COO.
All Malco Impact-Grade power drivers are precisely machined for positive, fail-proof engagement of the fastener head, and feature unique high-torque steel construction and a design that absorbs and dissipates impact-driver-induced stress at peak loads.
For more information about Malco Products, SBC, or to find a distributor near you, visit www.malcoproducts.com.
Malco Products, SBC, based in Annandale, Minnesota, with operations in DeWitt, Nebraska, is the nation's leading manufacturer of high-quality, American-made specialty hand tools for the HVAC trade (Heating, Ventilation and Air Conditioning). Backed by 70 years of history, Malco also manufactures "tools of the trade" for professionals engaged in exterior remodeling (roofing, siding and gutter), fence, deck and rail installation and autobody repair and refinishing. These specialized tools are built to last, rigorously tested and backed by a lifetime warranty.
Malco is proud to be employee-owned and a Specific Benefit Corporation in the state of Minnesota, a legal designation that indicates that a specific social benefit — employee ownership, keeping jobs local and strengthening communities — is the primary driver of Malco's business decisions. Malco was named the 2018 Medium Manufacturer of the Year by the Minneapolis/St. Paul Business Journal. For more information about Malco Products, SBC, visit www.malcoproducts.com.