Mayhew 11-in-1 Screwdriver and Nut Driver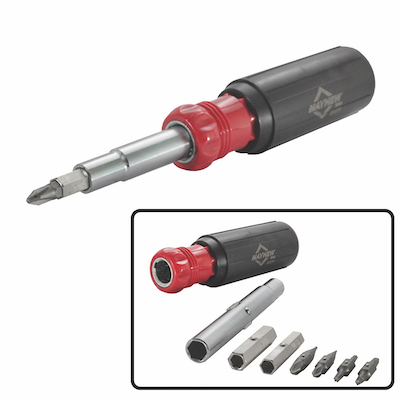 Mayhew Steel Products, Inc. introduces a new 11-in-1 Screwdriver and Nut Driver, part no. 51011 (51011C in packaging). The easy to change screwdriver and nut driver in one holds eight universal tips and converts to three nut driver series. This tool, backed by a lifetime warranty, features a 3-point grip made from high quality material with a superior method for bonding the grip to the core. The thicker grip material offers the user a cushioned, more comfortable grip.
Product specification includes:
No. 1 and No. 2 Phillips
3/16 and 1/4 Slotted
#1 and #2 Square Recess
T10 and T15 Torx
1/4, 5/16 and 3/8 Nut Driver
Assembled in the USA with domestic and global components.
Part No. 51011 11-in-1 Screwdriver (Bulk)
Part No. 51011C 11-in-1 Screwdriver (Clamshell)
Part No. 51011D6 11-in-1 Screwdriver (6Pack Display)
Mayhew Tools are sold through an extensive network of global distributors, primarily serving the industrial, automotive, and hardware markets.
For more information, contact Mayhew Tools at 800.872.0037 or visit mayhew.com.