Merlo P27.6PLUS Telehandler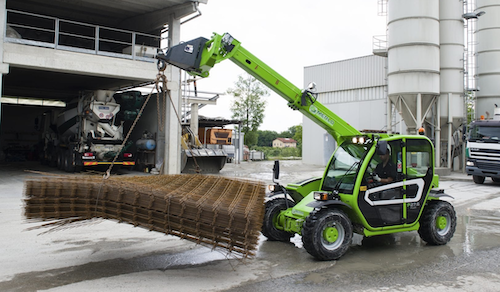 Merlo's P27.6PLUS, a telehandler for all industries, delivers maximum performance in a compact size. With a width of 6' and a height of 6'4", the P27.6PLUS surprises with the largest cab in its class, and the muscle to handle a maximum load capacity of 6,000 lbs., with a lifting height of 19'4". The P27.6PLUS has a lower center of gravity for increased machine stability, traction and nimbleness. And yes, this compact is approved for towing trailers.
Cab is for the operator
Operators can expect comfortable seating (frame mounted vibration-damping silent blocks) and a maximum level of ergonomic functionality, in the placement of the controls, within the spacious (3'3") cab. The single level joystick is easy to operate. Real-time operating parameters are delivered to the highly visible LCD. The reverse shuttle is conveniently located on the steering column, giving the operator maneuvering agility while still retaining control of the wheel.
The cabin air filter is mounted on the side of the cab for better quality air flow. Operators enjoy balanced AC/heat through an automotive style 8-vent system. The P27.6PLUS delivers full visibility with its wide curved windshield, safely protected by a FOPS certified protective grill. The 3" ring of steel which surrounds the cab maximizes protection of the machine and its operator.
Machine operation specifics
The P27.6PLUS comes standard with a hydrostatic transmission for precision machine movement (maximum speed is 25mph) and 4WD with three steering modes. The engine compartment, with its Kohler 75HP 4 cylinder engine, is located on the side of the frame for maintenance accessibility and better airflow. The quick response no-flex boom has the hydraulic lines inside the boom, reducing jobsite wear and tear. The fixed displacement hydraulic pump is engineered to limit component wear and reduce hydraulic oil overheating.
With its two hydraulic connections and outlet on the boom, the P27.6PLUS is designed to accept many attachments. The operator controlled Tac-lock system makes for easy, and safe, attachment connectivity. Standard features include an engine block heater and AC/heat.
Delivering more than most forklifts, the P27.6PLUS adapts to any industry needing versatile material handling in all situations.
Merlo (AMS) is the official importer and distributor of world-class Merlo telehandlers. AMS offers dealer opportunities, floor-planning, sales, service, and training. AMS has two locations. Main location is in Rock Hill, SC. The second location is Olathe, KS. www.ams-merlo.com / 803-327-4949 / info@appliedmach.com.