Overland Carts 950 Series Powered Carts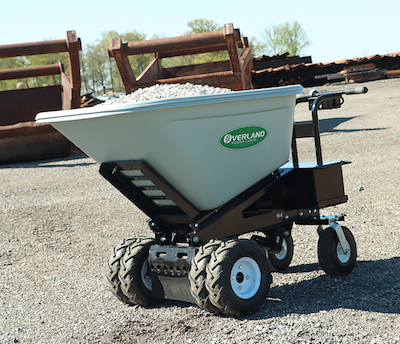 Overland Carts has been an industry leader in power carts since 2008. Every cart is designed to operate on an all-electric drivetrain powered by a robust rechargeable battery pack. New for 2021 is the 950 series which is being unveiled at booth N624 during the 2021 WOC Show in Las Vegas.
It has been designed from the ground up for contractors, masonry workers, and residential customers who live in hilly terrain.
The heart of the new series is the 24V 950 watt transaxle which has nearly 2.5 times the power of our standard 400W motor. Overall speed has improved from 3.0 MPH on our 400W carts to 3.5 MPH on our 950 series. On hard flat surfaces the 950 series is capable of hauling 950 lb and 500 lb on grass inclines.
More transaxle power means more battery power. Thus the introduction the biggest battery pack we have ever put on an Overland Cart, 75 Amp Hr. This battery pack withstood our toughest testing to date, alternating weights of 750 lb and 0 lb to simulate a work day. The result is a cart that we are confident to rate at 7-8 hours of real world use or an estimated 8-9 miles on a single charge.
The 950 Series comes standard with flat free dual ag drive tires. Each tire features a semi-pneumatic design that performs similar to an air tire but does not require inflation. Semi-pneumatic tires are heavy duty in their construction and will last through even the most rigorous applications.
A 10 cubic foot wheelbarrow style hopper or a 9 cubic foot wagon style hopper comes standard. Both hoppers feature a heavy gauge HDPE construction that is lightweight and also completely free from the possibility of rusting.
All Overland Carts are proudly made in the USA by Granite Industries. Granite is the parent company of Overland Carts and has developed and manufactured the brand since its beginning in 2008. Granite Industries was founded in 1997 and has built its reputation on heavy duty, USA made products ranging from scaffolding to power carts. More of the product line can be seen here: www.graniteind.com.
Overland Carts can be viewed on: www.overlandcarts.com. Granite headquarters is located at: 595 E. Lugbill Rd. Archbold, OH 43502. Contact Granite at: 877-447-2648.