Metabo Announces New 12V Cordless Power Tools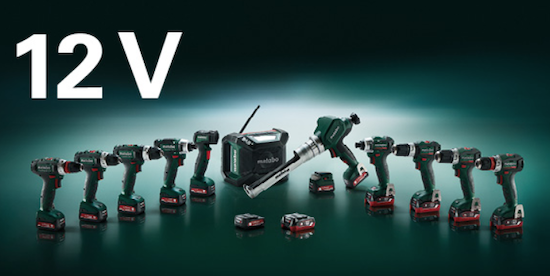 The 12 V Cordless Class from Metabo - light, compact and powerful
The new 12 Volt cordless machines from Metabo make your daily work easier in the real sense of the word. The devices are particularly light and fit perfectly ergonomical in your hand. They are of a small and compact design, however they deliver full power. The small power packs have a slim handle for optimum handling when being used. Thanks to the low weight even longer working or working overhead is no problem. The particularly short design of the housing is ideal when working in tight spaces. Also the 12 Volt slide-on battery pack is particularly compact and underlines the handy design of the Metabo 12 Volt class.
The new 12 V cordless tools at a glance
All 12 Volt cordless machines can easily be recognised by the 12 in their name. There are four drills/screwdrivers models available in the 12 Volt class. The simplest model is the BS 12, which is a typical representative of the 12 V class with exactly one kilo of weight and a hard torque of 40 Newton meters. It fits well into the hand and is powerful in its use. Even more compact and also more powerful is the 12 Volt drill/screwdriver BS 12 BL with a brushless motor for highest efficiency with very compact design. Both models are also available with a quick system for fast tool holder replacement and accessory replacement for flexible working.
Metabo offers two models with 12 Volt for the cordless hammer drills. The cordless hammer drill SB 12 and the brushless SB 12 BL. This also applies to the cordless impact wrench SSD 12 and the brushless SSD 12 BL, both with a hexagon recess to receive screwdriver bits. Two 12 Volt cordless caulking guns with different pipe lengths and a discharge pressure of 4400 N are also part of Metabo's range. The 12 Volt class is rounded off with a cordless portable lamp and a power adapter, a compact multi-function adapter that can be used as desktop charger, energy source and lamp.
LiHD 12 V: Cut the cord – keep the power
The energy for the 12 Volt cordless machines orginates from the compact 12 Volt battery packs. These are available both as Li-Power battery packs with a capacity of 2 Ampere hours and as LiHD high-performance battery pack with a total of 4 Ampere hours. Like this the poweful LiHD technology from Metabo is available also with 12 Volt: High-performance cells deliver enough power to perform demanding applications without cable. Maximum performance that is available for an extremely long time - for any application. Day after day.
One charger - one system
In the future, all chargers can charge both 18 Volt and 12 Volt slide-in battery packs. This permits the parallel use of 18 Volt and 12 Volt machines without any problems. One charger for all Metabo slide-in battery packs - charging made simple. One system from Metabo for your cordless future.