Drill Bits: Milwaukee 49-56-0320 Adjustable Hole Cutter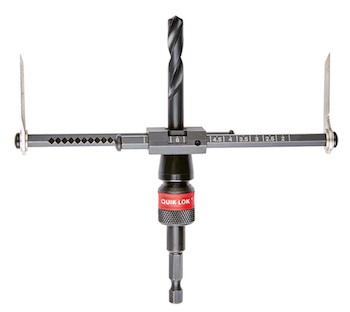 Milwaukee Tool introduces the Milwaukee Adjustable Hole Cutter (49-56-0320). Adjustable in 1/4-inch increments, the new cutter gives users double the range of hole size options over the competition for a broader range of applications and more secure fits.
The Adjustable Hole Cutter offers tool-free adjustability to quickly and easily change sizes without the use of a hex key, offering less downtime on the jobsite.
"Recessed lighting is a continually growing market segment within new construction and remodeling. With the increasing popularity of LED lights and different types of fixtures, common hole sizes range from 3 to 6 inches and everything in between. To install these lights, holes of many different sizes need to be created. Instead of carrying around multiple different sized hole saws, users are looking for a one-size-fits all solution," said Todd Taylor, Director of Marketing, Product Management for Milwaukee Tool.
"By simply releasing the Quik-Lok arbor and removing the pilot bit, users can easily adjust this new Hole Cutter from 2 to 7 inches in 1/4-inch increments without the use of additional tools or hex keys, quickly returning to the work at hand."
Laser etched markings along the black oxide coated cutting assembly and a size indicator allow users to easily recognize their desired setting. An optimized blade design allows for smooth and clean holes in ceiling tiles and drywall up to 1 inch thick.
While the Adjustable Hole Cutter can be used to cut holes for installing audio speakers, fire and security systems, and clearance holes, the majority of cutting is over-head for recessed light installation. This type of work often creates a great deal of dust. In an effort to shield the user from this dust and any potential small debris, the Adjustable Hole Cutter offers a best-in-class durable and reusable debris shield. Utilizing a spring collar, as users drill overhead the specially designed debris shield compresses to collect drywall dust and keep the working area clean.