Drill Bits: Milwaukee Shockwave Insert Hex Bits and Insert Socket Adaptors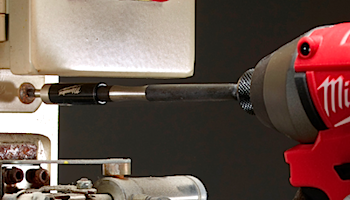 Building on the success of the Milwaukee SHOCKWAVE Impact Duty line that launched in 2009, and the SHOCKWAVE Expand program that launched in 2013, Milwaukee will now offer even more versatility for the user with the addition of Insert Hex Bits and Insert Socket adaptors to the program.
The additional products on the SHOCKWAVE Expand line will include (9) new SAE Hex Bits ranging in size from 1/16" to 1/4", (8) new Metric Hex Bits ranging in size from 2.5MM to 12MM, and (3) new insert socket adaptors in 1/4", 3/8" and 1/2" sizes.
SHOCKWAVE Expand allows the user to DO MORE and CARRY LESS. To match the breadth and flexibility of the 5 bit holders and 46 inserts in the Expand line, users would typically need to carry over 230 unique accessories. This is not only a considerable investment for users, but the volume of product needed adds substantial weight to their tool bags.
As with all products in the SHOCKWAVE family, Expand is built for extreme durability and up to 10X more life in impact drivers than standard bits.
New SHOCKWAVE Expand Model Numbers
September Launch
48-32-4616 SHOCKWAVE™ 9PC HEX 1" INSERT BIT SET
48-32-5020 SHOCKWAVE™ INSERT 1/4" SOCKET ADAPTER
48-32-5021 SHOCKWAVE™ INSERT 3/8" SOCKET ADAPTER
48-32-5022 SHOCKWAVE™ INSERT 1/2" SOCKET ADAPTER
48-32-5023 SHOCKWAVE™ 3PC INSERT SOCKET ADAPTER SET (1/4, 3/8, 1/2)
48-32-5720 SHOCKWAVE™ INSERT 1/4" SOCKET ADAPTER - BULK (10)
48-32-5721 SHOCKWAVE™ INSERT 3/8" SOCKET ADAPTER - BULK (10)
48-32-5722 SHOCKWAVE™ INSERT 1/2" SOCKET ADAPTER - BULK (10)
48-32-4700 SHOCKWAVE™ INSERT BIT HEX 1/16" - BULK (25)
48-32-4701 SHOCKWAVE™ INSERT BIT HEX 5/64" - BULK (25)
48-32-4702 SHOCKWAVE™ INSERT BIT HEX 3/32" - BULK (25)
48-32-4703 SHOCKWAVE™ INSERT BIT HEX 7/64" - BULK (25)
48-32-4704 SHOCKWAVE™ INSERT BIT HEX 1/8" - BULK (25)
48-32-4705 SHOCKWAVE™ INSERT BIT HEX 9/64" - BULK (25)
48-32-4706 SHOCKWAVE™ INSERT BIT HEX 5/32" - BULK (25)
48-32-4707 SHOCKWAVE™ INSERT BIT HEX 3/16" - BULK (25)
48-32-4709 SHOCKWAVE™ INSERT BIT HEX 1/4" - BULK (25)
November Launch
48-32-4724 SHOCKWAVE™ INSERT BIT HEX 2.5 MM - BULK (25)
48-32-4725 SHOCKWAVE™ INSERT BIT HEX 3 MM - BULK (25)
48-32-4726 SHOCKWAVE™ INSERT BIT HEX 4 MM - BULK (25)
48-32-4727 SHOCKWAVE™ INSERT BIT HEX 5 MM - BULK (25)
48-32-4728 SHOCKWAVE™ INSERT BIT HEX 6 MM - BULK (25)
48-32-4729 SHOCKWAVE™ INSERT BIT HEX 8 MM - BULK (25)
48-32-4730 SHOCKWAVE™ INSERT BIT HEX 10 MM - BULK (25)
48-32-4731 SHOCKWAVE™ INSERT BIT HEX 12 MM - BULK (25)