Milwaukee Auto-Lock Compact Tape Measures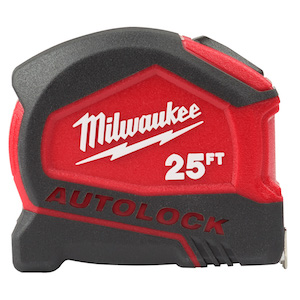 Milwaukee has expanded its lineup of Compact Tape Measures with new Auto-Lock Tape Measures. These tapes feature a blade that automatically locks once its extended to the users' chosen length. Users then simply need to depress the lock mechanism to retract the blade.
Just like all Milwaukee tapes, these new tape measures continue to deliver the longest life in the industry because of proprietary Nylon Bond Blade Protection, and a 5-point reinforced frame for drop protection. Together these features make Milwaukee tape measures the most durable tape measures in the industry.
Models Available:
16' Tape Measure with Auto-Lock (48-22-6816) $10.99
25' Tape Measure with Auto-Lock (48-22-6825) $14.99
5m/16' Tape Measure with Auto-Lock (48-22-6817) $10.99
8m/26' Tape Measure with Auto-Lock (48-22-6826) $14.99
Availability: May 2018