Milwaukee M12 Green 360-degree Single Plane Laser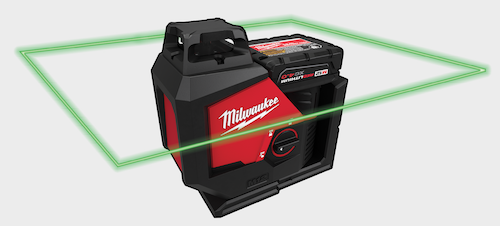 Milwaukee's determination to improve user experiences is exemplified by their continued commitment to provide productive layout solutions. Built for focused leveling applications, the M12™ Green 360° Single Plane Laser is the newest addition to their laser lineup. Focused on delivering users a solution with more power, visibility, and easier set-up, the Single Plane Laser aims to improve jobsite efficiency.
"After the success of our first M12™ lasers, we knew there was an opportunity for additional innovative solutions in this space. Competitive alkaline-powered lasers don't have the runtime and visibility users need to get the job done," said Kenan McCutcheon, Product Manager for Milwaukee Tool. "Leveraging our advanced M12™ battery technology, we are able to provide users the most reliable and powerful lasers for a best-in-class experience."
The M12™ Green 360° Single Plane Laser provides all-day run-time and best visibility* in its class. Utilizing an M12™ REDLITHIUM™ XC 4.0 Battery, users can get 30+ hours of continuous run-time, and the brightest* green laser offers users superior visibility with up to a 250' diameter. The laser is fitted with a tether-ready lanyard loop to help eliminate drops, and the amplified rare earth magnets provide a secure hold, ensuring it won't slide on steel studs and allowing users to set up anywhere. The Single Plane Laser is impact rated for drops up to 1m and the IP54 rating helps protect it from harsh jobsite conditions.
The new M12™ Green 360° Single Plane Laser joins the M12™ Cordless System, the largest sub-compact system on the market, focused on delivering industry-leading durability and power in the tightest spaces. Currently, the M12™ System is made up of more than 100 solutions.
*When compared to 12v multi-plane lasers with all green diodes or 12v cross line & plumb point lasers with all green diodes
Specifications: M12™ Green 360° Single Plane Laser (3631-21)
Working Range: 125ft
Range w/Detector: 165ft
Accuracy: +/- 1/8" @ 33ft
Thread Mount: ¼"-20 & 5/8"-11
Locking Pendulum: Yes
Self-Leveling: +/- 4º Tilt
IP Rating: IP54
Impact Resistant: 1m
Class 2 Laser
Warranty: 3 Years

Kit Includes: (1) M12™ Green 360° Single Plane Laser (3631-20), (1) Responsive Laser Alignment Target, (1) Laser Track Clip, (1) M12™ REDLITHIUM™ XC 4.0 Battery, (1) M12™ Lithium-ion Battery Charger, (1) Carrying Case.
*Also available as a bare tool (3631-20)