Stabila LAX 600 G Multi-line Green Laser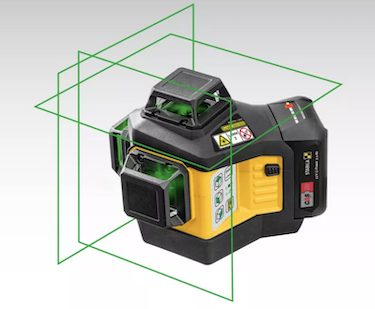 Are you looking for a powerful line laser with modern rechargeable battery technology for precise layout work in interior construction? The STABILA LAX 600 G combines all aspects of a professional laser.
Work quickly and precisely: Innovative STABILA GREENBEAM technology with razor-sharp 3 x 360° lines that let you transfer heights, create right angles and align axes.
With sturdy aluminum and glass frames to protect the laser optics, the IP 65-certified water- and dustproof laser proves its ruggedness. For everyone who wants to work efficiently.
Features
CAS 12 V battery-powered, self-leveling line laser with green 3 x 360° lines for precise layout work.
GREENBEAM technology: direct work on sharp and perfectly visible lines – up to 130 ft away.
Divide rooms into 4 x 90°: two orthogonal vertical lines.
A vertical plumb line and a horizontal line for exact height transfers.
Ready for immediate use: fast self-leveling with a pendulum mechanism.
Easy to operate: Each button has just one function.
Rugged: Sturdy aluminum and glass frames and the shock-absorbing STABILA soft grip exterior protect the laser optics against dirt and falls.
Water- and dustproof: Protection class IP 65 (without rechargeable battery).
Long operating time: CAS 12 V LI-POWER 2.0 Ah rechargeable battery for up to 15 hours of use.
Short charging times: Quick recharging in max. 45 minutes.
Practical: Set includes SUB 10 adapter base for flexible positioning and installable SWB 10 wall bracket.
Applications
For a wide range of tasks in drywall construction – for layout work, positioning partition walls and suspending ceilings.
Transfer heights in electrical installation work quickly and easily – align sockets, switches and cable trays horizontally and vertically to each other.
For tiling – when marking out the tile layout and aligning and laying the tiles.
Precise transfer of marking points during plumbing work – align pipe hangers vertically and horizontally to each other, position and install pipes and heating pipes quickly.
Reliable height transfer for carpentry and joining – transfer drill holes precisely, align countertops quickly, align and install furniture and cabinets exactly to each other.