Milwaukee M18 Cordless Inflator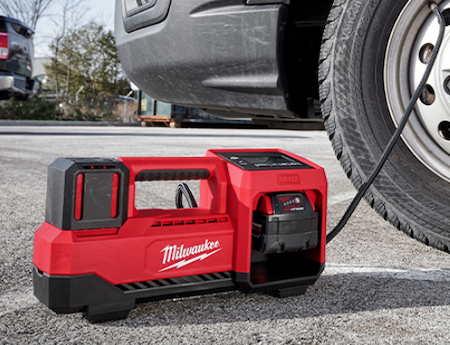 Milwaukee's M18™ Inflator delivers fast, accurate, easy inflation with the portability to take anywhere. Optimized for passenger, light truck, and other medium-duty tires. Rated to deliver max 150PSI, the high efficiency motor tops-off 33" light truck tires in under 1 minute.
The TrueFill™ Technology features an auto-pressure check that is designed to WAIT for the pressure to stabilize, CHECK the system pressure, and FILL until the desired target is reached.
In addition, an Auto Shut-Off feature will stop inflation at selected PSI to prevent overinflation allowing users to set it & forget it.
Furthermore, the unit includes 4 PSI memory slots, anti-vibration feet, a 36" inch hose with an all-brass Schrader chuck, and an on-board hose and nozzle storage.​
FASTEST 18V CORDLESS TIRE INFLATOR
Top off 33" light truck tires in under a minute
Optimized for light, medium and heavy duty vehicles
TRUEFILL™ TECHNOLOGY
Auto pressure check feature activates to ensure PSI Target is achieved
Automatic shut-off at selected PSI prevents overinflation
VERSATILITY
4 PSI Memory Presets
3 Units of Measurement
On-board Hose & Nozzle Storage
Anti vibration rubber feet to minimize walk
Inflation Needle, Inflator Nozzle, and Presta Chuck Included
SPECIFICATIONS
Tire Capacity: Premium Components and Unmatched Durability to Handle Tires Over 100 PSI, Rated for 150 PSI Max

Optimized for Passenger, Light Truck and Other Medium Duty Tires

On-Board Hose & Nozzle Storage: Easily Store 36" Hose and Attachments

Anti-Vibration Feet: Minimize Tool Walk While in Use

5 Year Tool Warranty

Fits All M18™ Batteries

Accessories: Includes All Brass Schrader Chuck, Inflation Needle, Inflator Nozzle, & Presta Chuck