Cortec VpCI-126 HP UV Shrink Film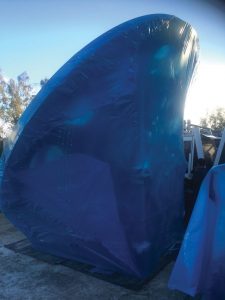 Storage space can be hard to come by in warehouses or manufacturing facilities. This is especially true for manufacturers who have thousands of engine components that must be built ahead or molders who need extra space to store tooling and dies. VpCI®-126 HP UV Shrink Film gives you the option of expanding storage outdoors while getting reliable corrosion protection.
Why Is VpCI®-126 HP UV Shrink Film Good for Outdoor Storage?
VpCI®-126 HP UV Shrink Film combines high strength resins with ultraviolet (UV) light stabilizers and Vapor phase Corrosion Inhibitor Technology. This state-of-the-art film construction provides multi-metal protection for parts, equipment, and vehicles for up to three years, even in aggressive outdoor conditions. Corrosion inhibitors in the film vaporize and condense on metal surfaces within the enclosed space to protect metals in direct contact with the film and those in recessed areas.
How Is VpCI®-126 HP UV Shrink Film Applied?
VpCI®-126 HP UV Shrink Film can be shrink wrapped with a wide variety of shrink tools to create a streamlined unit that provides a secure environment for protecting idle assets from the elements. Depending on the components and internal volume, VpCI®-126 HP UV Shrink Film may be supplemented with other VpCI® materials such as VpCI® Oil Additives, VpCI® Emitters, and VpCI® Fogging Fluid for flexibility and maximum protection. It is easy to see through the packaging for easy identification of packaged items. When it is time to use the asset, the shrink film can be easily removed, leaving the asset corrosion-free and ready to use.
Where Can VpCI®-126 HP UV Shrink Film Be Used?
VpCI®-126 HP UV Shrink Film has been and can be used in a variety of environments and for countless different types of assets. Ideas include
• Seaside storage of giant marine engines awaiting shipment
• Preservation of oil and gas inventory valves too large for indoor storage
• Overflow storage for equipment build-ahead programs
• Integrity assurance for assets awaiting installation in a greenfield project
• Layup of critical spares
If you are feeling limited on storage space or want to maximize protection on assets already sitting outside, be sure to take advantage of VpCI®-126 HP UV Shrink Film to transform your outdoor storage options. Contact Cortec® for assistance: https://www.cortecpackaging.com/contact-us/