Mule-Hide EPDM x-23 Low-VOC Bonding Adhesive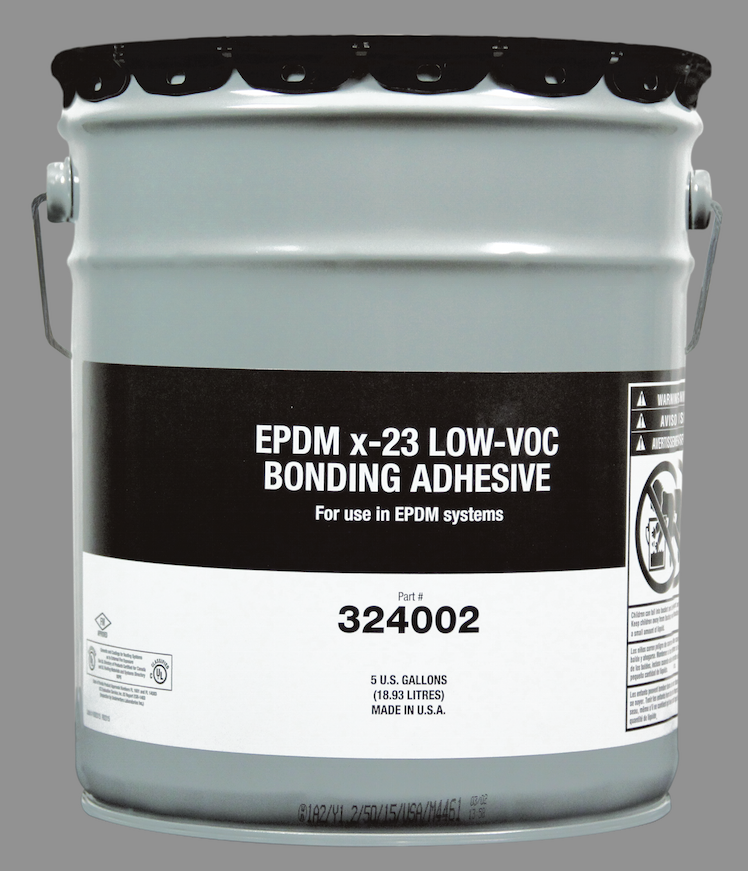 With its fast flash-off, easy application and extended open time, new EPDM x-23 Low-VOC Bonding Adhesive from Mule-Hide Products Co. boosts roofing crew productivity while also helping ensure blister-free installations of EPDM roofing systems.
EPDM x-23 Low-VOC Bonding Adhesive quickly creates a strong bond between EPDM membranes and a variety of porous and non-porous substrates. It is easily applied using a 9-inch medium nap roller.
The adhesive's solvent blend is designed to flash off rapidly, enhancing crew productivity and decreasing the chance that solvents will become trapped underneath the membrane, potentially causing the membrane to blister.
An extended open time – the period after flash-off during which the adhesive film remains tacky – makes EPDM x-23 Low-VOC Bonding Adhesive an ideal choice when working with larger EPDM sheets. It also allows sheets to be left open longer, enabling more solvents to escape and further reducing the potential for blistering.
EPDM x-23 Low-VOC Bonding Adhesive provides excellent shear performance, ensuring strong adhesion of the membrane to parapets for tight, waterproof installations.
EPDM x-23 Low-VOC Bonding Adhesive meets the volatile organic compound (VOC) content requirements of the Ozone Transport Commission (OTC) Model Rule for Single-Ply Roofing Adhesives.
The adhesive is sold in 5-gallon pails with enough product to cover up to 300 square feet of finished area, depending on jobsite conditions.
EPDM x-23 Low-VOC Bonding Adhesive should be stored at temperatures between 60 and 90 degrees, as prolonged storage in lower temperatures may cause the adhesive to gel.
Mule-Hide Products offers premium-quality, high-performance roofing products and systems that meet the current and emerging needs of the design community, contractors and building owners with a strong focus on sustainable solutions. More information is available at www.mulehide.com.
Phone: 800-786-1492