NAVAC NEF6Li Cordless Automatic Flaring Tool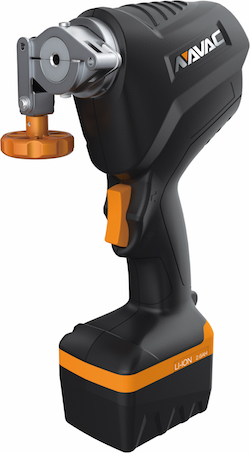 NAVAC Inc., the world's largest supplier of a wide array of HVAC tools such as vacuum pumps, gauges, charging machines and other industry-specific items, has introduced a new cordless automatic flaring tool.
A welcome departure from creating flares manually, the NEF6Li Cordless Power Flare yields accurate, hassle-free flares in a fraction of the time compared to traditional flaring methods.
Equipped with a high-performance, large-capacity rechargeable lithium battery, NAVAC's new automatic flaring solution makes flaring faster and far simpler without sacrificing accuracy or consistency. Designed to perform reliably in harsh environments, the NEF6Li Cordless Power Flare also offers variable speed control and quick-connect functionality.
It comes in a sturdy blow-molded case with four tube holders, six commonly-sized flare dies, two batteries, a charger, a premium tubing cutter and a deburring tool.
Traditional, manual flaring tools are largely dependent on the individual installer's expertise, a factor that can lead to inconsistent, often damaged flares. In addition, conventional flaring blocks are cumbersome and require assembly and disassembly. By comparison, the NAVAC Cordless Flaring Tool is far easier to use, with positioning and securing the tube taking mere seconds. From there, all the operator does is press the button to make a flare – also a matter of seconds.
With more than 600 employees and sales in over 80 countries, NAVAC recently launched North American operations in Lyndhurst, New Jersey. The company seeks to meet the need in the HVAC/R industry for user-friendly equipment and tools that are less complicated and save time – both crucial to busy technicians charged with conducting efficient yet exacting services.
"Flaring by conventional means is often laborious, time-consuming, and not always adequate from an accuracy standpoint." said Stephen Rutherford, Director of HVAC Tools Business for NAVAC. "Like many NAVAC innovations, our Cordless Power Flaring Tool's strongest asset is simplicity that increases speed and ease of use while also delivering high levels of precision."