Esco MILLHOG APS-438 Air Powered Saw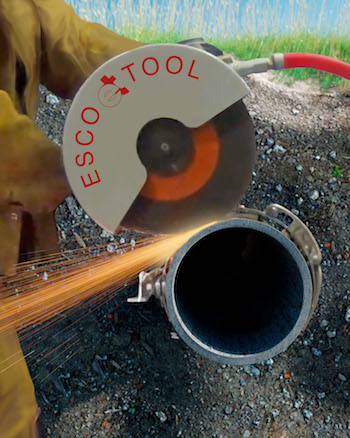 An easy-to-operate pneumatic saw and mounting trolley system that makes cutting concrete lined pipe faster and produces a highly accurate finish has been introduced by Esco Tool of Holliston, Massachusetts.
The MILLHOG APS-438 Air Powered Saw for cutting concrete lined steam pipe mounts onto a WrapTrack system that can be sized for 6" to 60" dia. pipe and produce perfectly square cuts that are accurate to ±1/16".
Ideal for making field repairs to underground steam lines, this combination saw and track system leaves a smooth finish for joining the pipes with couplings.
Featuring a fiberglass reinforced blade and the WrapTrack system which provides a secure path for the MILLHOG APS-438 Air Powered Saw, it is superior to torch cutting and grinding when repairing underground steam lines.
The fully portable saw mounts rigidly on a trolley equipped with four V-grooved steel wheels that glide along the steel WrapTrack system.
The MILLHOG APS-438 Air Powered Saw sells for $5,795.00 and the WrapTrack from $450.00 up.
For more information contact: www.escotool.com