Snap-On Industrial 1/4-Inch Pneumatic Drills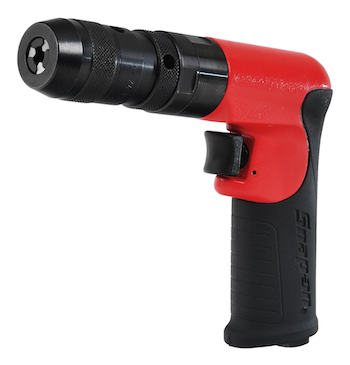 These new 1/4" Capacity Pneumatic Drills from Snap-on Industrial are the perfect solution for tough drilling jobs in tight quarters where precision is critical.
The 1/4" Capacity Pneumatic Drills (part numbers in the series begin with either PDYT or PDZT) are ideal for numerous drilling uses that contain ferrous and non-ferrous metals, plastics and composite materials.
Fourteen models of the drill are available – all of which are engineered for applications such as light assembly to skin repair.
Features and benefits of the new 1/4" Capacity Pneumatic Drills include:
Inlayed grip provides a comfortable low-profile padding, while guiding users to hold the tools properly to enhance accuracy and reduce fatigue.
Ergonomic supportive housing provides a resting point for the index finger during operation. These drills are engineered and designed to be held so that the operator's wrist and index finger is in-line with the chuck to enhance precision and control while reducing user fatigue.
Featherable throttle provides precise control.
Dual-chambered motor provides high torque for demanding applications.
High-stall torque aides in removing a jammed bit by pulling the trigger and turning the drill clockwise.
3-planet gear carrier design provides precision and industrial-grade durability.
Industry leading Rohm chucks are known for durability and come in keyed and keyless versions.
Optional accessories include:
21-piece THUNDERBIT Cobalt drill bit set (part number DBTBC121)
29-piece THUNDERBIT Cobalt drill bit set (part number DBTBC129)
29-piece THUNDERBIT Cobalt high-speed drill bit set (part number DBTB129)
21-piece THUNDERBIT Cobalt high-speed drill bit set (part number DBTB121)
25-piece metric THUNDERBIT set (part number DBTBM 125)
11-piece high speed drill bit set (part number DBTR11)
29-piece high speed drill bit set (part number DBTR129)
11-piece Cobalt short drill bit set (part number DBTRCS11)
29-piece drill bit set (part number DB129C)
21-piece drill bit set (part number DB121C)
13-piece drill bit set (part number DB113C)
Letter drill bit set (part number DBA126B)
25-piece metric drill bit set (part number DBM125C)
60-piece Cobalt Wire Gauge drill bit set (part number DBC260A)
60-piece high speed wire gauge drill bit set (part number DB160C)
20-piece high speed wire gauge drill bit set (part number DB120C)
21-piece jobber length Cobalt drill bit set (part number DBBPC21)
21-piece jobber length HSS drill bit set (part number DBBP21)
13-piece Titanium coated steel bit set (part number DBBPT13)
For more information on the new 1/4" Capacity Pneumatic Drills from Snap-on Industrial, call (877) 740-1900, or visit www.snapon.com