RIDGID K-4310 FXP Drum Machine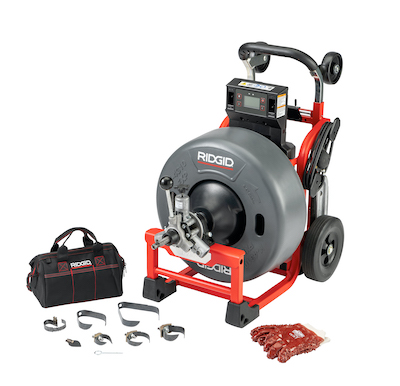 RIDGID, a part of Emerson's professional tools portfolio, introduces its most powerful drum machine, the K-4310 FXP™ Drum Machine with a new cable counter that provides real-time, in-pipe cable distance for faster locating and diagnostics.
Ideal for residential and commercial plumbing and drain cleaning projects, its powerful Brushless DC Motor spins at 230 RPM and provides long-lasting runtime, with less required maintenance. C
learing 3" to 10" lines, the K-4310 FXP is powered by RIDGID's new FXP Technology Platform that lets users switch between battery and power adapter (in development) for maximum versatility.
The Cable Counter feature helps professionals know where the cable is in the line as they are clearing blockages. The cable distance tracking feature allows professionals to always know where their equipment is located within the line, simplifying cleaning.
The unit's enclosed quick-change drum is easily removed, allowing for easier setup and transport, while the rotating inner drum efficiently dispenses cable and reduces the chance of cable flip over. Integrated AUTOFEED® Technology advances and retrieves cable up to 28 feet per minute with zero tools required for setup.
"Our K-4310 FXP Drum Machine gets to the heart of a profitable drain cleaning business – productivity and a 'one more job' mentality. It features the latest innovations in power consumption, real-time metrics, and smart technology, while also built to withstand the toughest conditions," said Alex Meyer, product manager, RIDGID for Emerson.
"From eliminating the need to guess where in the drain line your cable is, to not having to search for an outlet, both enhance efficiency and are just two of the great new features integrated into this drum machine."
The K-4310 FXP includes the latest in ergonomic design and has a telescoping handle and cart designed with multiple touch points and mobility options for more comfortable and controlled transportation and storage. Customizable reports, tool history, and diagnostics Shareable job insights and tool history data are also available via the RIDGID Link® App and help enhance productivity and customer relationships.
The K-4310 FXP is backed by the RIDGID Full Lifetime Warranty.