RIDGID K9-12 FlexShaft Drain Cleaning Machine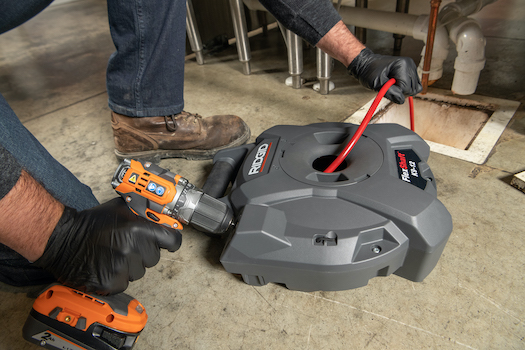 RIDGID®, part of Emerson's professional tools portfolio, introduces the K9-12 FlexShaft® Drain Cleaning Machine, the latest in a complete line of RIDGID FlexShafts that provide wall-to-wall pipe cleaning power with astonishing speed.
The K9-12 is the smallest of the machines and perfect for residential use, eliminating the need to repeatedly unclog the same household drain lines. Clearing up to 30 feet of 1¼- to 2-inch pipe, the K9-12 breaks up grease, hair and other soft blockages, making it ideal for kitchen and bath sinks, as well as tubs and shower drains.
Powered by an 1800 to 2500 RPM cordless drill, the machine's chain knocker expands inside the pipe to quickly clear the blockage and restore the pipe to full flow. A flexible, protective sheath encapsulates the cable, keeping it fully enclosed for less mess and faster cleanup. The built-in clutch design also extends the cable life.
"Our K9-12 FlexShaft Drain Cleaning Machine is a great tool to start with if you have never experienced the cleaning speed and efficacy of a RIDGID FlexShaft Drain Cleaning machine," said Shelby Gerl, product manager, RIDGID for Emerson. "It will save you time in removing common residential blockages and add value to your work by providing a fully flowing pipe again."
The K9-12 joins three additional RIDGID FlexShaft Drain Cleaning Machines – the K9-306, K9-204 and K9-104. Each provides wall-to-wall clean with astonishing speed. Designed for commercial use, the K9-306 clears 3- to 6-inch diameter lines up to 125 feet; the K9-204 clears 2- to 4-inch diameter lines up to 75 feet; and the K9-102 1¼- to 2-inch diameter lines up to 50 feet.
FlexShaft machines are backed by the RIDGID Full Lifetime Warranty.
To purchase or learn more about the K9-12 and entire line of FlexShaft Drain Cleaning Machines, visit RIDGID.com, or call toll-free: 1-800-4RIDGID.