Snap-on Industrial WV1700 Series Vises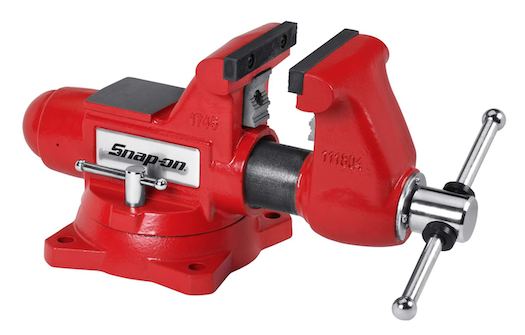 With four different jaw-size widths, the new WV1700 Series Vises from Snap-on Industrial are a perfect addition to any work bench in the aviation, wind power, natural resources or manufacturing industries.
The WV1700 Series Vises come with features that make them durable for demanding applications, including an oversized anvil that provides a larger surface designed to take a beating in forming and shaping materials.
Built from 60,000 PSI ductile iron castings, the vise is virtually indestructible; and is also backed by a lifetime warranty. It comes with a fully sealed 1-piece spindle-nut assembly that keeps lubricants in and contaminants out for smooth operation. The precision-machined slide bar eliminates "side-play" movement, regardless of the opened distance.
The vise's serrated pipe jaws are made from machined steel and come with black phosphate coating for extended life. The 360° swivel base has double lockdowns for easy and secure access while in use.
The WV1700 Series Vises comes in four sizes:
4 1/2" jaw width (WV1745A); 3 1/2" maximum opening; 2 1/2" pipe capacity
5 1/2" jaw width (WV1755A); 5" maximum opening; 3" pipe capacity
6 1/2" jaw width (WV1765A); 6" maximum opening; 3 1/2" pipe capacity
8" jaw width (WV1708B); 8" maximum opening; 3 1/2" pipe capacity
For more information on the new WV1700 Series Vises from Snap-on Industrial, call (877) 740-1900, or visit https://b2b.snapon.com/