Streamlight Marks 13 Years Supporting Cancer Research Foundation
Company has donated $867,000 to breast cancer research since 2010.
---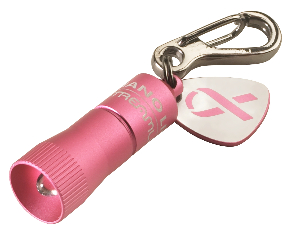 Streamlight® Inc., a leading provider of high-performance lighting equipment, has donated $867,000, resulting in more than 17,000 research hours, since 2010 to the Breast Cancer Research Foundation® (BCRF), a not-for-profit organization seeking to prevent and cure breast cancer. Each October, Streamlight recognizes Breast Cancer Awareness Month by donating proceeds from its pink line of lights to BCRF.
In 2022, the company donated $21,500 from sales of the pink Nano Light® key chain light, the pink Siege® AA ultra-compact lantern, and the pink Strion® LED tactical light. For each of the lights, Streamlight donates $1.00, $2.00, and $5.00, respectively.
According to BCRF estimates, a woman in the US is diagnosed with breast cancer every two minutes. More than 43,000 women and 500 men will die from the disease this year. Because of research conducted by organizations like BCRF, deaths from breast cancer have decreased by 43 percent in the last three decades.
"Streamlight is very proud to have provided continuous support over the years to BCRF, resulting in such a significant number of research hours," said Streamlight Chief Revenue Officer Michael F. Dineen. "Several of our employees are among those who are breast cancer survivors, which is why we decided to create a line of pink flashlights and donate a portion of the proceeds to BCRF to help find a cure for this disease," he said.
To learn more about Streamlight's pink products and other Lights for a Cause, please click here.
About BCRF
The Breast Cancer Research Foundation (BCRF) advances the world's most promising research to eradicate breast cancer. Since its founding by Evelyn H. Lauder in 1993, BCRF has raised more than a billion dollars to fuel discoveries in tumor biology, genetics, prevention, treatment, survivorship and metastasis making it one of the largest non-governmental funders of breast cancer research in the world. For more information about BCRF, visit www.bcrf.org.
About Streamlight
Based in Eagleville, PA, Streamlight, Inc. is marking 50 years of manufacturing high-quality, durable flashlights designed to serve the specialized needs of professionals and consumers alike. Since 1973, the company has designed, manufactured and marketed high-performance flashlights, and today offers a broad array of lights, lanterns, weapon light/laser sighting devices, and scene lighting solutions for professional law enforcement, military, firefighting, industrial, automotive, and outdoor applications. Streamlight is an ISO 9001:2015 certified company.
For additional information, please call 800-523-7488, visit streamlight.com