Abrasives: Norton Abrasives Ultra-Thin RightCut Wheels for Metal Fabricating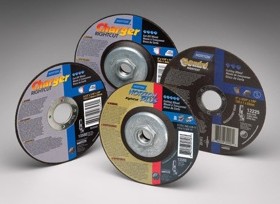 New .040 Ultra-Thin offering has been added to RightCut line for Right Angle Grinders.
Three-tier product offering delivers maximum performance at all price levels, providing metal fabricators more "Muscle Behind The Machine."
Norton, the world's largest abrasives manufacturer and leader in metal fabrication abrasive products for over 125 years, has expanded its RightCut cut-off wheels with a new ultra thin line of .040 thick products in their BETTER (Charger) and GOOD (Metal) offering of products for the Metal Fabrication, Construction and Industrial Markets. The new line complements Norton's existing RightCut lineup of cut-off wheels for right angle grinding, the broadest range of type 01 and type 27 wheels in the industry.
"Our new ultra-thin RightCut wheels provide metal fabricators a full range of right angle grinding solutions at all performance and price levels. Norton Norzon Plus RightCut is offered in the BEST tier for the industry's top performance and lowest total cost solution, Charger RightCut in the BETTER tier for an excellent mix of high performance and competitive price and Gemini RightCut and Metal offerings in the GOOD line for end users that are looking for solid performance at a great price level." said Mr. David Long, Director of Marketing, Strategy and Marketing Information at Saint-Gobain Abrasives.
The Norton RightCut line of ultra thin .040 wheels covers Type 01 straight and Type 27 depressed center cut-off wheels from 4-6". These wheels provide quick, burn-burr free cutting and low kerf loss. All are full fiberglass reinforced for the demanding nature of portable cut-off.
Norton NorZon Plus RightCut
NorZon Plus RightCut offers the "best" cut-off wheels, made with the premium combination of Norton SG seeded-gel ceramic alumina and Norzon zirconia alumina abrasives, in the fastest cutting bond system. Extensive internal and field tests prove that these NorZon Plus wheels perform up to 100% better than competitive high-performance wheels and up to 10 times better than aluminum oxide wheels. Improved performance was found across all grinding jobs, from exotic alloys and stainless steel to gray iron.
Norton Charger RightCut
Featuring a blend of zirconia alumina and alumina oxide abrasives with three times the life of aluminum oxide wheels, Charger RightCut delivers two times the cut rate on stainless and carbon steel. Its excellent price to performance ratio lowers total grinding costs.
Norton Gemini RightCut
An engineered blend of high performance aluminum oxide provides the best starting specification on a wide variety of sizes and thicknesses at a good initial price. Gemini RightCut is ideal for small jobs on a variety of metal applications from carbon to stainless steels.
Norton Metal
A limited offering of popular sizes offer good performance and a very competitive opening price.
Norton RightCut ultra-thin wheels for cut-off applications are available in Charger and Metal lines in 4", 4 ½", 5" and 6" sizes, in .040" thickness, in Type 01 and Type 27.