Hand Tools: PB Swiss Tools Modular Ratchet Tool Series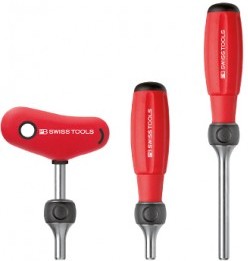 Count On Tools Inc., a leading provider of precision components and SMT spare parts, introduces PB Swiss Tools' new modular Ratchet Tool Series.
PB Swiss Tools' ratchets are the ideal tool for quickly tightening and loosening screws. The versatile ratchets can be used and switched one-handed. This product line is adaptable with the full range of PB 225 interchangeable blades, ¼" PrecisionBits C6, and ¼" sockets.
With the addition of a ratcheting module to the various ergonomic handles, customers can save a great deal of time and energy. PB Swiss Tools ratchets can be used in any situation, from DIY repair work to precision assembly operations. More than 40 different interchangeable blade and bit styles are available for the new line, making it an extremely valuable tool. Additionally, the ratchets provide the ability to safely fasten screws in difficult situations and inaccessible spots.
With the ergonomically shaped handle, the screwdriver lies exceptionally comfortably in the hand. The handle also has a Santoprene coating, which ensures the reliable transmission of torque with only a slight application of force, even with wet or oily hands. The Santoprene coating is resistant to many chemicals and resists color fading.
All PB Swiss Tools ratchets can be switched easily with one hand, which means work can be carried out even in the most difficult conditions. Thanks to the switch ratchet, a three-stage mechanism with small rotation angle (15°/24 teeth), screws can be twisted in and out comfortably.
With more than 130 years of experience, PB Swiss Tools is a global leader of hand tools manufactured for use in the industrial marketplace, even for the most hazardous jobs. All PB Swiss Tools are 100 percent Swiss-made and come with an unlimited lifetime guarantee.