PaintLine ProCart Material Handler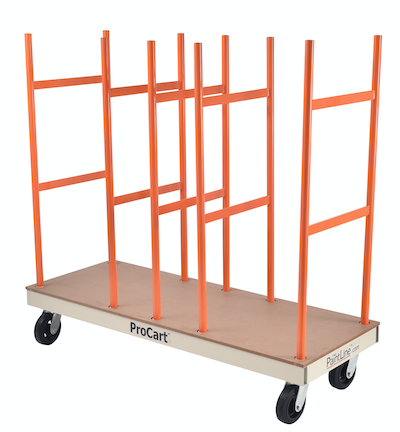 PaintLine, known for its spray stand and drying rack solutions for painting, cabinet and millwork finishing, has just introduced ProCart, a versatile material handling cart designed to handle multiple parts as users move through the shop or production.
ProCart has a powder-coated steel base with MDF decking and heavy duty 6" castors for maneuverability.
Dividers can be installed along the width or length of the cart to provide maximum flexibility with as many as 12 bins. The dividers can also be completely removed, converting it into a lumber cart.
ProCart has a weight capacity of 2,000 lbs.
"ProCart is ideal when you have dynamic material handling needs,"says Kyle Robinson, president of PaintLine. "You can re-arrange or remove the dividers and the entire cart, at just 22" wide, is perfect for maneuvering in tight spaces or aisles."
ProCart features and specifications include:
Material: Powder coated steel, MDF deck, heavy duty 6" castors
Capacity: 2,000 lbs.
Height: 59"
Width: 22"
ProCart is available now.
Since the 1990s, PaintLine products have provided innovative, practical and economical drying rack and spray stand solutions for painters, cabinet makers, millwork shops, residential remodelers, renovators and DIYers. PaintLine is a Merchandising Systems Inc. brand, a leader in metal fabrication for material handling and retail store fixturing for over 50 years. PaintLine is headquartered in Menlo Park, CA. For more information, go to www.thePaintLine.com or call 1-510-477-9100.