Paslode CFN325XP Cordless XP Framing Nailer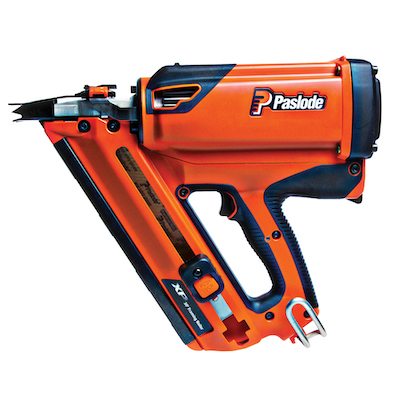 Paslode has introduced their newest model Cordless XP Framing Nailer with fuel-powered performance that keeps you going.The new Model CFN325XP (#906300) is engineered, built, and tested with the pro in mind to get the job done right.
It addresses pro contractor needs including strong jobsite performance, greater comfort and consistent power.
"Our end user research identified four opportunities for improvement," explained Morgan Manning, Paslode Senior Product Manager. "Increased efficiency of loading nails, redesigned grip for better comfort and control, improved performance when rapid-firing nails, and easy battery removal. All of these features have been added to this new model solving pro's key pain points."
Strong Jobsite Performance
The Paslode Cordless XP Framing Nailer is ready to Fuel Your Drive; and is perfect for applications such as framing, truss attachment, wall panels, floor joists, decking, fencing, blocking, and more. Its performance is outstanding thanks to the uniqueness of its fuel powered system that drives 9,000 nails per battery charge and 1,200 nails per fuel cell to keep you productive all day. It comes with a rear-load magazine with a bypass follower for faster nail loading – just load and pull.
See the nailer in action on their website: www.paslode.com/newcordlessxp
Greater Comfort:
The Paslode Cordless XP Framing Nailer is the lightest cordless framing nailer on the market at 7.2 lbs., up to four pounds lighter than the competition. Its new two-sided texturized padded grip provides added comfort and control with improved ergonomics and maneuverability.
Consistent Power
This Paslode Cordless XP Framing Nailer delivers consistent power needed for the toughest jobs, and features a longer fan run time keeping the tool cool especially during rapid firing. Its Fuel System drives nails flush into LVL and other hard lumber, especially when used in combination with our Fuel + Nail Packs.
Other pro-focused features include a tool-free adjustable depth of drive and a must have adjustable rafter belt hook that can rotate for either right or left-handed users. A nail lock-out mechanism engages when five nails are left in the magazine to signal that reloading is necessary and help prevent premature driver blade wear.
2-Year Service Promise
The newest Paslode Cordless XP Framing Nailer is designed and assembled in the USA and is currently available at Lumber Yards and Big Box stores. "If your nailer stops working for any reason, we will diagnose and repair or replace your tool within the first 2 years, no matter what the cause." adds Manning. To benefit from this best-in-class service follow two simple, easy steps: first enroll your tool at time of purchase and second make a claim to start your service. To complete both steps or learn more about the 2-Year Service Promise, visit www.paslode.com/service-promise
About Paslode
Paslode, a division of Illinois Tool Works, is a leading manufacturer of cordless and pneumatic nailers, staplers, and fasteners. Paslode provides long-lasting nailing systems that deliver Power, Productivity and Pride of Craftsmanship to perform at the highest levels of quality, to get the job done right every time. Paslode enables productivity minded pros to continue building their reputations. For more information visit www.paslode.com or follow us on Instagram at @itwpaslode or call 1-800-222-6990.