Paslode F150S-PP Positive Placement Metal Connector Nailer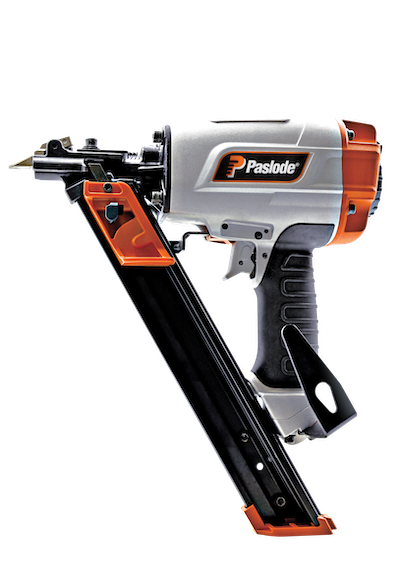 The Paslode next generation 1-1/2" Positive Placement® Metal Connector Nailer, Model F150S-PP, is compact and provides the power, speed and accuracy to make it the most productive metal connector nailer on the market. To see the F150S-PP in action, watch the video here.
"Our field research found that contractors had two critical pain points with metal connector nailers," said Samantha Brucks, Paslode Product Specialist. "The first was reliability and the second was ability to fit into tight spaces. Our new metal connector nailer is more reliable and its compact design allows it to fit easily into tight spaces."
New Features of the F150S-PP addressing the pain points include:
A new nose and crescent shaped driver blade – this new design improves reliability and minimizes jamming. The new crescent shaped driver blade strikes more surface area of the nail allowing for consistent drive performance for higher productivity.
An inline, compact 1-strip magazine design for balance, maneuverability and unobstructed operation. It allows for a capacity of up to 29 nails (Note: a 2- strip magazine is available as a service part.)
Undeniable Power
This new metal connector nailer delivers enough power to drive nails flush into LVL's and harder woods, and its strong aluminum housing is designed to withstand tough jobsite conditions.
Unbelievable Speed
The F150S-PP features a jam-free design for the fastest hole-to-hole speed when used with Paslode Positive Placement metal connector nails. They feature a head marked for easy nail identification by building inspectors. The nails come in a pro-strip collation, which maintains strip integrity on the job and in the pouch. These nails are heat-treated to improve drive performance and reduce bending. They are strong enough to drive through most metal connectors even when they miss the hole, minimizing nail ricochet. They come in 1-1/2" x .131 and 1-1/2" x .148 brite or mechanically galvanized. They are ICC-ES recognized under ER2126.
Unbeatable Accuracy
The F150S-PP uses Paslode's unique, patented Positive Placement® probing tip, which finds the hole quickly and delivers the fastest hole to hole performance. It also provides a wide angle of approach and excellent visibility. Other tools use a less effective nail point, making it more difficult to locate holes especially when reaching.
Additionally, the F150S-PP has an ergonomically designed cushioned grip for extra comfort, a bypass follower for fast loading and features a tool-less adjustable exhaust cap to deflect air away from the user. The nail lock-out mechanism engages when four nails are left in the magazine to signal that reloading is necessary and help prevent premature driver blade wear.
To learn more, visit www.paslode.com/products/tools/f150s-compact-pp-metal-connector-nailer, or call 1-800-222-6990.