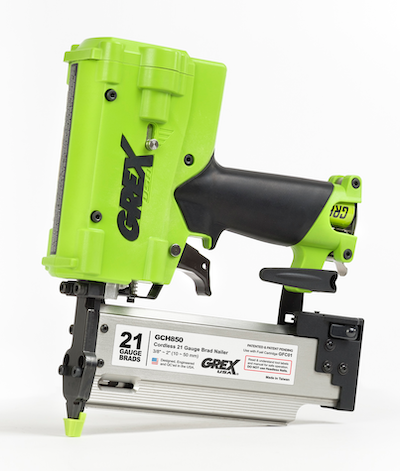 Grex Power Tools will be proudly releasing their GCH850 Cordless 21 Gauge 2" Brad Nailer in June. Designed and built for accuracy, performance, control and dependability, the GCH850 will be the first and only cordless 21 gauge nailer in the market.
Most power tool manufacturers have been able to develop cordless technologies that are equal if not better than their now outdated tethered predecessors. But in the specific realm of nailers and staplers, most power tool companies are falling short. The most widely available variations are still under powered , slow, and/or large heavy and bulky.
Grex has developed the most efficient combustion based technology; allowing them to build the smallest, most compact, lightest weight cordless nailers with no compromise on power. Even after 4 years, their GC1850 cordless 2" 18 gauge brad nailer is still by far the closest you can get to an air powered tool. And they have continued to push this technology to build even smaller and more compact cordless nailers with further improved ergonomics.
Last year, they introduced their GCP650, the world's first cordless 2" 23 gauge headless pinner. And this year, they are releasing their GCH850 cordless 2" 21 gauge brad nailer. Again, it will be the first of its kind. It touts the same size, weight and ergonomics as their cordless pinner, but with the ability to drive 21 gauge brad nails up to 2" in length; making it the most versatile cordless finish nailer in the industry.
"The 21 gauge brad nail is a perfect compromise providing holding power closer to that of an 18 gauge brad nail, but leaving a hole size closer to that of a 23 gauge pin. This translates into both time and cost savings by being able to go onto a jobsite with only one nailer instead of 2 different tools", says Lee Iacopetti, National Accounts Manager.
Kit Contents: GCH850 Cordless 2" 18 Gauge Brad Nailer, plastic carrying case, two (2) no mar tips, Edge Guide Accessory, Allen wrench set and safety goggles.
Pricing and Availability: The suggested retail price for the GCH850 is $499.00 and available in June 2012 from GREX Authorized Resellers. For more information on the GCH850 and other Grex products, please visit http://www.grexusa.com/.
About Grex Power Tools: When you choose a Grex tool, you're investing in a better built, longer lasting, more powerful tool with the best considered set of features and ergonomics. It's the same award-winning robust build quality that users have trusted in GREX tools for 25 years. And every new GREX tool adds innovations that enable you to do more, easier and faster. The difference really is in the details.
GREX offers a comprehensive line of air nailers, staplers and fasteners, but is heavily recognized for its superior line of finish nailers, specifically 23 gauge headless pinners. GREX tools covers applications including finish and trim, cabinets, doors and windows, woodworking, flooring, framing, sheathing, roofing, siding, furniture, upholstering, packaging and manufactured housing as well as specialty applications such as nailing in to concrete and steel. Whatever your needs and applications, GREX has a tool to do the job.
If you would like more information about this topic, please call Raymond Wong at (323) 318-2828 or email raymondw@grexusa.com.