Adhesives & Sealants: Powers Fasteners T308+ Adhesive Anchoring System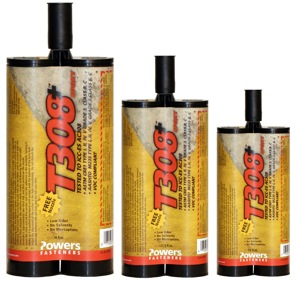 Powers T308+ is a two component epoxy adhesive anchoring system that fits most competitive tools on the market.
The system includes injection adhesive in plastic cartridges, mixing nozzles, dispensing tools and hole cleaning equipment. Free dispensing nozzle included.
The T308+ epoxy adhesive is a smooth paste formulation with low odor that is solvent-free, V.O.C. compliant and does not contain mercaptans. Its Department of Transportation approved in most US States. (For a complete list of approvals, please go to Powers .Com and click on the approval section.)
T308+ adhesive is designed for bonding threaded rod and reinforcing bar into drilled holes in concrete base materials.
General Application and Uses:
Tested in accordance with ICC-ES AC308 criteria
Evaluated and qualified by an accredited independent testing laboratory for use in uncracked concrete
Cartridge design allows for multiple uses using extra mixing nozzles
Mixing nozzles proportion adhesive and provide simple delivery method into drilled holes
The new Powers T308+ is in stock and ready for delivery. Call our toll free number for your nearest authorized Powers distributor or for a free demonstration: 1-800-524-3244.