RIDGID R4221 12 inch Corded Dual Bevel Sliding Miter Saw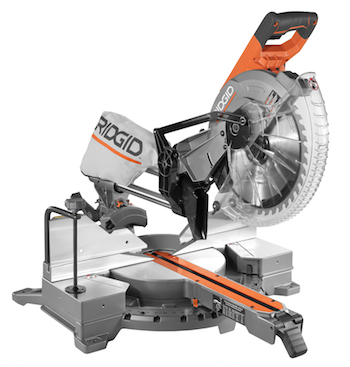 The RIDGID 12 in. Dual Bevel Sliding Miter Saw can handle any job that is thrown its way. This Miter Saw has an industry leading 0-70° miter range both to the left and to the right. It has a dual bevel design with crown molding stops so that you can move the saw head instead of the material.
SPECIFICATIONS:
Amperage: 15 Amps
Maximum Speed (RPM): 4000
Maximum Miter Capacity: 70°
90° Crosscut Capacity: 2x16 or 4x6
45° Crosscut Capacity: 2x12 or 4x6
Maximum Cutting Thickness: 4 inches
Dust Collection Method: 1 1/2 inch Dust Port
FEATURES:
Adjustable miter and bevel detents with bypass allow for quick adjustments to the most common angles
LED cut line indication and work-light illuminates work to improve visibility and accuracy of the cut
Powerful 15 Amp motor powers through even the most difficult materials
Blade brake stops blade for quicker transitions in between cuts
Positive bevel crown molding stops at the most common angles; 0°, 15°, 22.5°, 33.9° and 45° left and right
Positive miter stops at the most common angles 0°, 15°, 22.5°, 31.6°, 45°, 60° and 67.5° left and right
The R4221 also carries RIDGID's Lifetime Service Agreement.