TigerSaw 1000 Cross-Cutting Saw System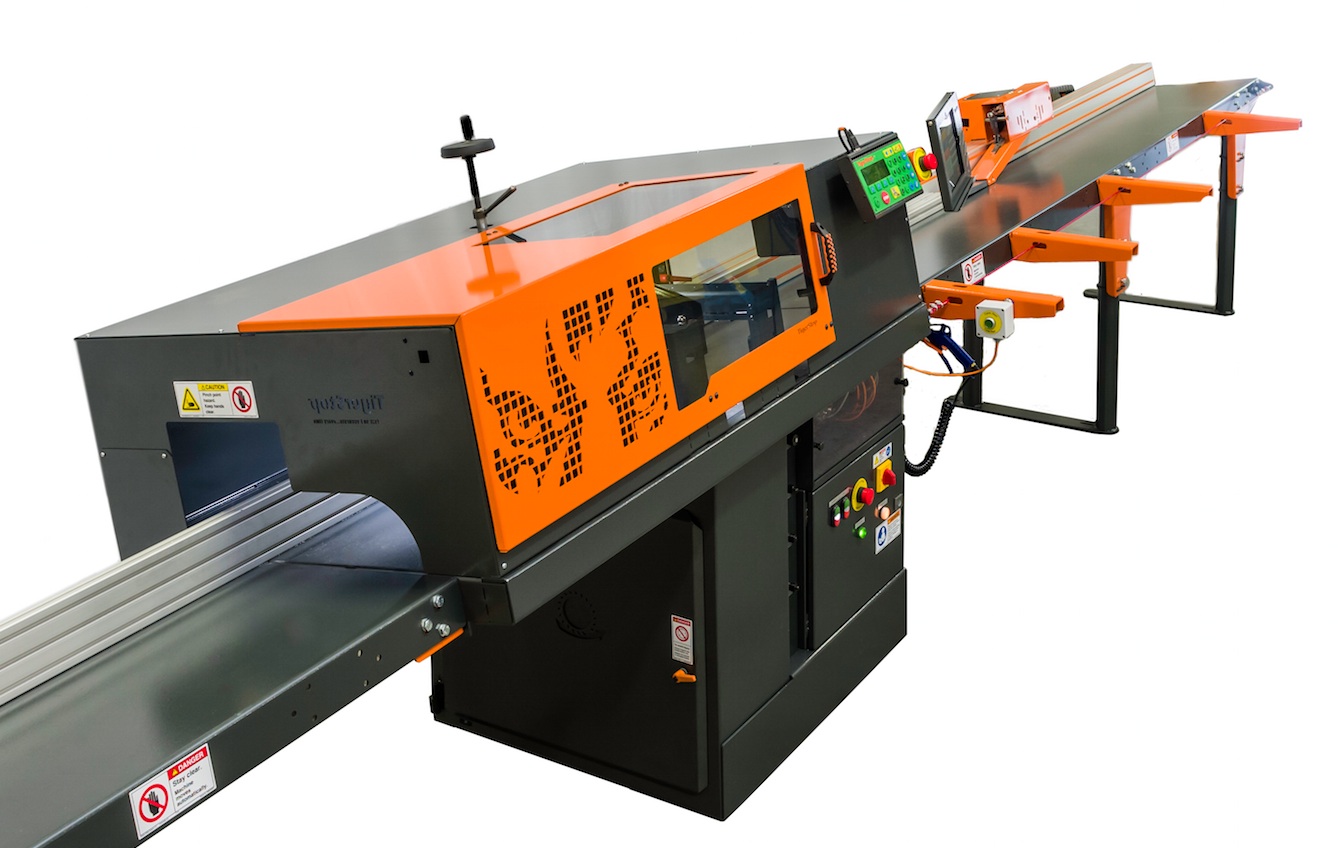 TigerStop has just unveiled the all new TigerSaw 1000, a fully automated cross-cutting saw system that delivers finished-part cut quality along with 5-Piece door optimization and pack and bundle processing.
TigerSaw 1000 comes with Dynamic Optimization software for getting the best material yield, which combined with its Crayon Defect Marking system allows shops to use lower grade, less expensive #1 Common material to achieve the same yield as they would with FAS or Selects saving a lot on material costs.
It also features an adjustable cutting envelope, pushing capacity to handle bundles or single piece processing, baffles for improved air flow and pneumatic clamping. TigerSaw 1000 is designed to greatly increase the yield, speed and accuracy at which manufacturers can process raw material into finished parts.
Made in the United States, the TigerSaw 1000 is an automated push feed saw that pairs either a 350mm a 450mm, or 500mm saw blade, with an accurate, powerful pusher system for finished-part cut quality. It incorporates fast, precise, automated cutting software that lets operators achieve maximum yield without extensive training.
The all new TigerSaw 1000 incorporates a number of great features: part list downloading, inkjet print directly on cut parts, easy to reach pneumatic adjustment points on the front of the machine, passive spring clamps or optional pneumatic horizontal and vertical clamping for handling delicate material and profiles and a system of baffles that direct the flow of air for improved dust collection. It comes with Dynamic Optimization software for maximizing material yield, which also allows for processing of random width panel lists for glue-up preparation.
TigerSaw 1000 performs both cross cutting automation and material optimization, functions which are usually only attributed to larger systems, typically costing hundreds of thousands of dollars. This means that more companies can afford the performance and efficiency standards of much larger manufacturers.
"TigerSaw 1000 is a defecting, optimizing push feed saw for every shop," says Spencer Dick, TigerStop founder and president. "It includes some really innovative features like an adjustable cutting envelope with best-in-class capacity, along with an easy-to-use, defect-marking system that will optimize clear material while cutting parts."
TigerSaw 1000 automates the entire cross cutting process with a system that is fast and accurate every time. Pair that with the optional touch screen tablet, Tiger Touch, which runs on a Surface Pro, and you have an interface that is intuitive and easy to train employees on using.
Dynamic Optimization: Dynamic Optimization software comes standard and automatically determines best yield from your cut list.

Crayon Defect Marking: Simply mark the beginning and end of your defects on material with a crayon. The TigerSaw 1000 will cut around the defects and optimize all the clear material in between so you get the best yield from your cut list.

5-Piece Door Processing: Using dynamic optimization operators can processes panel lists optimized for width in preparation for glue-up

Inkjet print directly on cut parts OR on printed labels

Adjustable cutting envelope: pack sawing of different sizes, shapes and various profiles are easily accommodated from 6inx6in to 1x16in with 500mmm blade

Push up to 2100 lbs: TigerSaw 1000 can be configured to push, heavy material or smaller, lighter material – ideal for processing pack/bundles or single piece

Fully automatic, horizontal, pneumatic clamping along with passive spring clamps: provides a stable and secure hold even if the material has a profile on the clamping surface

Part list downloading: directly download parts lists from virtually any ERP system including a simple spreadsheet

TigerTouch touch screen control: simple and intuitive interface will improve operator performance and material yield

Pneumatic adjustment points are in the front of the machine where they can easily be reached by the machine operator along with easy diagnostics

Advanced air flow control technique that uses baffles to direct the flow of air generated by the saw blade. This provides a cleaner saw area for better print and cut quality.