Pipe Tools: RIDGID SeeSnake microDrain Inspection System
Quickly inspect places previously difficult to reach.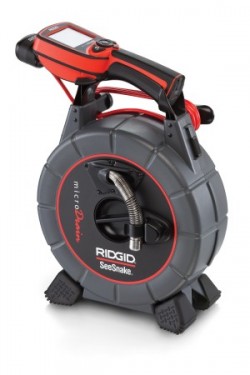 RIDGID has added a new product to its SeeSnake line of drain inspection products, the SeeSnake microDrain inspection system. The compact microDrain inspection system allows for quick inspection in places previously difficult to inspect, providing accessibility, efficiency and reduced job time.

The SeeSnake microDrain inspection system features a 30-foot flexible cable and a small 22-millimeter diameter camera head that allows for more accessibility and efficiency in inspection jobs. The flexibility of the cable and tight turn radius of the camera head allows for access through many toilet traps and small P traps without the need to disassemble or dismantle plumbing fixtures.

The durable and rugged microDrain inspection system is lightweight and easy to carry making it more accessible for everyday use and an easier fit on every truck. The unit is 19-inches high and 4 1/2 -inches wide.

Multiple monitor compatibility allows users to use the microDrain reel with any SeeSnake monitor or the microEXPLORER digital inspection camera to capture still and video images.

The SeeSnake microDrain inspection system is backed by the RIDGID lifetime warranty.