Pipe Tools: General Tools DPS16 Pipe & Duct Video Borescope Inspection System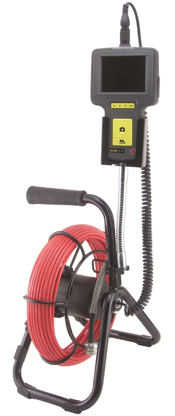 Plumbers and HVACR contractors and technicians will be thrilled by the convenience and capabilities of the new Pipe & Duct Video Borescope Inspection System (DPS16) from General Tools & Instruments (General®). The DPS16 provides a compact, durable and simple solution to the typically complicated task of pipe and duct inspection. It offers the flexibility and performance necessary for precisely examining and documenting the interior conditions of ductwork and water and sewer pipes, all at a best-in-class value.
The two-component DPS16 system is one-part probe and reel, one-part recording borescope. The included Pipe & Duct Inspection Probe & Reel Set (P16PIP) comprises a 72 ft. long camera-tipped probe, a sturdy take-up reel and accessories for centering the probe in 2, 4 and 6 in. I.D. pipes. The 1.1 in. diameter camera has a remarkable depth of field of 0.4 in. to infinity, a 150-degree viewing angle and eight super-bright white LEDs that yield 640 x 480 pixel (VGA) resolution.
The probe can maneuver through two 90-degree bends, is waterproof to IP68 standards (to a depth of 50 ft.) and is immune to toilet cleaners and oils. The P16PIP, which is also sold separately, is compatible with General's DCS1600, DCS1600ART and DCS1800 high-performance video borescopes. It enables owners of these high-performance systems to extend their inspection capability to long pipes and ducts.
The included Video Borescope Handheld Recording Console (H16) features a 3.5 in. LCD color monitor for real-time viewing and an integral 2GB MicroSD card for recording video and still images. Controls on the H16—essentially a DCS1600 system without the probe and accessories—adjust the brightness of the camera LEDs and manage all recording functions. Video and images stored on the MicroSD card can be viewed on a computer and/or shared via the Web. These captured images can be used for post-inspection analysis and to document pipe and duct conditions.