Red Devil ColorCure Pink2White Sealant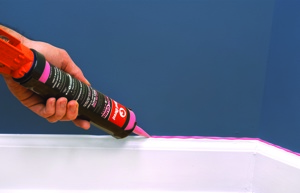 Red Devil, Inc. announces a unique approach to caulk that is both "green" and pink, with the introduction of ColorCure Pink2White, a premium, multi-purpose sealant that goes on pink and dries white when it's ready to be painted and is environmentally friendly.
The patent pending technology is free of solvents, plasticizers and toxic chemicals, yet has the added benefit of a dry-time indicator. It is also low in VOCs and odor and cleans up easily with water.
"ColorCure sealant represents an exciting technology breakthrough that both pros and DIYers say would help them achieve better results," said Jason Ringling, Director of Marketing, Red Devil, Inc. "It will help improve job efficiency and the performance level of any caulk and paint job."
Red Devil's ColorCure sealant has a typical drying time of one to two hours, depending on climate conditions. It is perfect for indoor and outdoor use and has patented HomeShield antimicrobial protection. With a tight, weather-proof seal, ColorCure sealant may be used on windows, door frames, baseboards, trim, countertops and vents. And, it has excellent adhesion to painted and unpainted wood, glass, aluminum, masonry, tile, brick, metal and concrete. It also meets spec for ASTM C 834-05.
Available in eye-catching packaging, ColorCure sealant is available in 9.5 oz. cartridges. For more information about Red Devil ColorCure Pink2White sealant, call 1-800-4A-DEVIL or visit their Web site.