Multiquip GloBug Diffuser Light Tower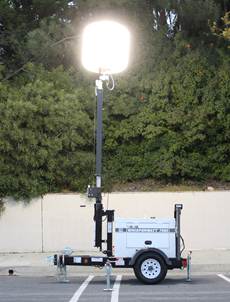 Multiquip announces the model GB2000 GloBug Diffuser. The GB2000 is part of Multiquip's family of GloBug lighting solutions and enables Multiquip towable light tower users to meet requirements for glare-free lighting.
The GB2000 connects to the light tower's electrical system and attaches to the mast T-bar in place of the original light fixtures. The assembly uses a quiet running industrial fan to inflate a durable balloon that encloses two powerful 1,000 watt metal halide lamps, which diffuse light. The result is clean, white light up to 300 feet that improves safety by eliminating the glare and shadows produced by conventional light towers.
"Contractors, government agencies and state department of transportations are increasingly requiring the use of diffused lighting to improve safety at job sites with high vehicle traffic," said Juan Quiros, director of product management for Multiquip. "Independent studies have shown that glare-free lighting reduces accident risk during road repair and construction. The GB2000 Diffuser also has applications beyond construction, including police checkpoints and special events."
The diffuser balloon inflates quickly, typically within 30 seconds of striking the lights, to provide 360 degree illumination. The restrike time is also reduced – usually within six to 10 minutes compared to other light designs. When not in use, its self-contained design protects the balloon and lights and simplifies transport between jobs.