Rex-Cut Abrasives Sigma Z Grinding Wheels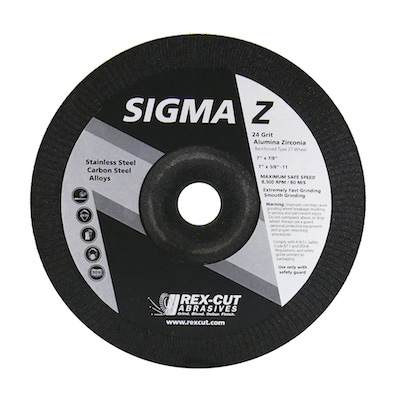 Sigma Z high-performance grinding wheels for stainless steel, carbon steel, mild steel, galvanized steel, and alloys, are now available from Rex-Cut Abrasives.
Sigma Z grinds stainless steel welds up to 15% faster than other leading wheels. In addition to a high material removal rate, this new wheel features cool grinding, extended wheel life, and a chatter free operation.
"Sigma Z is the hard working and reliable wheel you'd expect from the Sigma Line. Grain and bond advancements allow this wheel to knock down welds in record time" states Bob Costa, Rex-Cut Abrasive President.
Sigma Z is available now in 4.5", 5", and 7" diameters. Visit rexcut.com/sigmaz for more information.
About Rex-Cut
Rex-Cut Abrasives provides the metalworking industry with high performance, non-woven cotton fiber and other premium abrasive products, improving the daily grind for a worldwide customer network. Rex-Cut products are specialized for use on Stainless Steel, Aluminum, Mild Steel, and Exotic Metals. A 100% employee-owned organization, Rex-Cut offers many other specialty products for use on a variety of grinding, deburring, blending, and finishing applications.