Ripley MSAT-X Fiber Cable Preparation Tool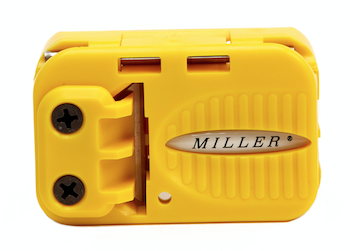 As the fiber cable roll-out picks up pace, Ripley Tools has launched the innovative MSAT-X tool to offer engineers unrivalled flexibility for cable preparation. The MSAT-X, part of the Miller® range, is the first buffer tube shaver of its kind and is set to future-proof toolkits worldwide.
The MSAT-X has been designed and manufactured to offer engineers unrivalled flexibility of use. The midspan tool can be used across a range of cable types up to 5mm in diameter, removing the need for multiple tools. The unique loading ramp enables all cable sizes to be loaded precisely into the same cutting blade, so there's no need for the use of a sizing gauge.
To help engineers get the job done more efficiently, everything about the MSAT-X has been considered for ease of use. Its versatile deep and shallow cutting channels are colour coded for easy identification and its ergonomic shape and light weight design means it's simple to work with.
The MSAT-X has undergone extensive prototyping, testing and development in-house at Ripley Labs, which included engineer trials. The tool guarantees durability and reliability, so users can be reassured they can get the job in hand done.
Keith Badger, Managing Director UK / Director of Global Marketing at Ripley Tools, commented: "The MSAT-X really is a breakthrough product for the fiber sector due to its user-friendly design and flexibility. With the fiber optic rollout progressing fast, it's vital that time-pressured engineers have the best quality tools for the job – and to have one tool, which has multiple uses, is a real game-changer. Following our extensive testing at our lab, we're confident not only of the reliability and performance of this tool, but how it performs on the job for engineers today and the engineers of tomorrow."
The MSAT-X was designed and built at Ripley Labs in the USA. It is available now from Ripley's partners across the globe.
For more information visit https://ripley-tools.com/fiber-optic-cable/buffer-tube-shavers/msat-x