Ripley Tools Miller MB02 Fiber Cable Slitter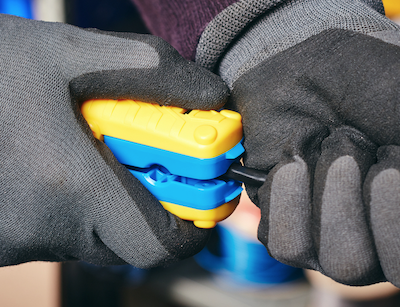 Ripley Tools has designed and manufactured a unique cable slitting tool to help speed up full-fibre broadband rollout. The innovative Miller® MB02 is making cable stripping faster, easier and safer for engineers.
The market-leading MB02 is unique in its ability to make precise incisions on two sides of a cable without touching the encased fibres. This speeds up the cable stripping process and improves quality levels. The tool is spring loaded and has steel-armoured blades capable of cutting cable jackets up to 15.25mm in diameter. It is approved for official use with two major cable types, AFL Fujikura and Corning MiniXtend cables.
When creating the new tool, safety was a top priority for Ripley. The engineering team designed the MB02 with a lock which can be utilised while the tool is being used or in storage, which means an engineer's hands should never come into contact with the blades. Key to increasing safety was making sure the cable slitter was easy to hold, so the MB02 benefits from improved ergonomics to sit comfortably in the hand and minimise the risk of strain or fatigue.
In line with the full range of tools from Miller®, the MB02 is highly durable to give it a longer life cycle. The tool also benefits from being simple to use, so it can be quickly rolled out across a remote workforce.
Keith Badger, Director of Global Marketing, at Ripley Tools, commented: "We designed the Miller® MB02 to not only get the job of cable slitting done quicker and more effectively but also to make it safer and more comfortable for engineers in the field. The practical elements of how our tools impact engineers are really important to us, as well as knowing we are giving businesses an advantage to get the job done in better time. The MB02 is truly unique and I'm pleased we can finally share it with the industry."
A bespoke version of the Miller® MB02 is already in use by Openreach as part of its full-fibre broadband rollout. The digital network provider is benefiting from the tool speeding up its operations, reducing the room for human error and, importantly, delivering high safety levels for its large workforce.
The Miller® MB02 is available now from https://landing.ripley-tools.com/MB02.html
For more information visit www.ripley-tools.com