Cables & Lights: RoboReel Power Cord Reel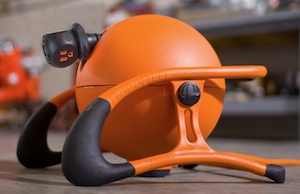 RoboReel Power Cord Reel is the world's first extension cord with its own "brain." A recent winner of 2012 Popular Mechanics Editors' Choice Award, RoboReel has one-of-a-kind convenience and safety features that increase productivity, protect from accidents and save time.
Combining the latest technology and design, the sleek RoboReel Power Cord Reel needs just a push of a button on RoboReel or on the receptacle ball on the end of the cord to automatically retract 50 feet of heavy-duty 12 gauge power cord in less than 10 seconds at a controlled speed. The portable, motor-driven power cord system rotates 360 degrees for easy access to any tool within a 100-foot diameter.
RoboReel Power Cord Reel's "brain," a microprocessor installed in the reel's high-impact plastic shell, allows users to program a "docking point," a slow-down point in the cord during retraction, preventing the dangerous whipping-action found in spring-loaded reels.
The "brain" inside RoboReel also provides other safety features. If the cord is accidentally severed, the unit will sense it and shut off the power in less than a second to avoid electrical hazards. Redundant thermostats will sense if the unit is overheating and will turn off the power until the reel cools down to help prevent fires. If the cord is stepped on or obstructed, RoboReel will stop retracting. Another important safety feature is the reel will not retract while a power tool is in use.
The durability features promise that the RoboReel will last for years. The RoboReel is made with industrial strength materials including a 180V DC long-life motor, and high-impact, engineered polycarbonates that are oil, gas and chemical resistant. This is why RoboReel offers an industry-leading 4-year or 4,000-wind warranty.
Available in both ceiling-mounted and portable styles, Roboreel can be mounted for use in a garage, or it can be easily carried to access projects around the house or garage.