Cables & Lighting: Aleddra LightFly 5000 LED Balloon Light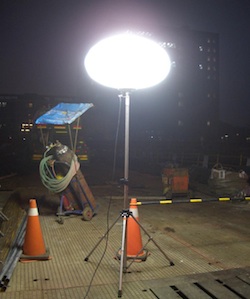 Aleddra LED Lighting, a business unit of Lightel Technologies, Inc., announces its LightFly 5000 LED Balloon luminaire is now available in the U.S. as an energy-efficient solution for construction area lighting.
Aleddra LED lighting is a leader in LED retrofit segment for the fast market growth of its highly popular EasiRetrofit LED T8 tube lamp used to replace linear T8/T12 fluorescent tube lamp.
This LED balloon fixture offers 360-degree lighting at a high efficacy at 97.5 LPW, making it the ideal choice for any work area lighting application, indoor or outdoor.
The translucent balloon cover reduces glare associated with harsh HID lighting alternatives. The luminaire's pleasant soft white light helps create a safer workspace for workers.
Lumen output level is controlled with a toggle switch for changing lumen output between 11,700 and 23,400 lumens, depending on the application needs. At 23,400 lumens it consumes only 240W as compared to the standard HID lamps using 1,000W at 20,000 lms.