SENCO Second-Generation F-15XP, F-16XP and F-18XP Cordless Nailers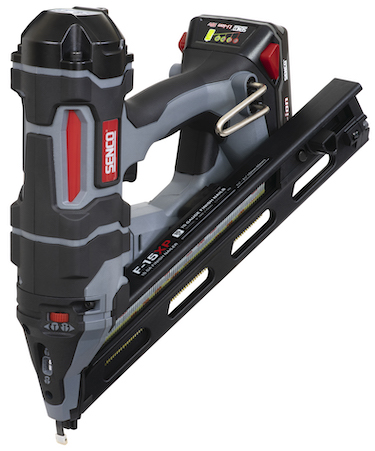 KYOCERA SENCO Industrial Tools (SENCO), an industry leader in fasteners and fastening systems, has updated its cordless finish and trim nailers, the company announced today. The new F-15XP 15-gauge finish nailer (shown), F-16XP 16-gauge finish nailer, and F-18XP 18-gauge brad nailer will be avail-able through SENCO distributors in August.
The new tools feature SENCO's patented FUSION Cordless Pneumatic Technology and maintain the feel and performance of a true pneumatic nailer. However, they have been re-engineered to be more robust, powerful and ergonomic, as well as easier to use and repair than the previous generations.
Each new SENCO cordless tool includes an air valve that allows the tool to be quickly and safely depressurized. The internal components can be easily removed and rebuilt, and the tool can be repressurized through the air valve.
"The new FUSION finish and trim tools were designed to be service-center friendly with easy access to internal components, so they are even more like a traditional pneu-matic tool now than they were before," said Eric Bellman, Senior Product Manager. "While other brands require tools to be sent back to the factory, SENCO's new cord-less tools can be serviced at any authorized SENCO service center, allowing for faster repairs and less downtime."
As with all of its products, SENCO relied on the voice of the customer when redesign-ing its flagship cordless nailers, incorporating years of feedback and data collected from finish and trim carpenters who use the tools daily.
Design hallmarks include:
Instant – SENCO cordless nailers fire quickly with no ramp up time between shots.
More Powerful - The F-15XP's power has been increased by 10 percent compared to the original model. This feature is designed to drive nails fully into the toughest sub-strates.
More Robust - Redesigned components — including a more durable safety cover and better lubricant containment — ensure best-in-class longevity.
Smarter - Jam avoidance technology improves performance and reduces the chance of a catastrophic nail jam. Indicator lights warn of low battery level and possible jams.
Easier to Service - The air valve and easy disassembly allows service centers to re-place and repair specific components instead of entire assemblies.
Each new cordless finish and trim tool powered by FUSION technology comes with a 1.5Ah battery and a quick charger, a durable storage bag and a 5-year warranty. They are also compatible with SENCO's 3.0Ah batteries included with the company's DURASPIN auto-feed screwdrivers and FUSION cordless framing nailers. MSRP for the new tools ranges from $389.99 to $399.99.
For more information, visit senco.com/fusion.