Nailers & Staplers: Duo-Fast Compact 1-1/2" TICO Nailer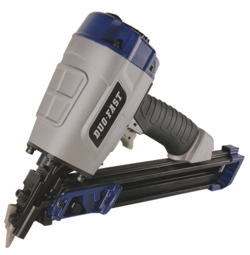 Perfect for Joist Hangers.
Duo-Fast Construction (www.duo-fastconstruction.com) is introducing a compact, pneumatic 1-1/2" Tico Nailer, Model DF150S-TC. The tool is designed to fasten joist hangers into wood with 1-1/2" Tico nails. The tool features a single strip magazine that makes it easy to maneuver and get into tight spots.
"It is three times faster than hand nailing and twice as fast as a palm nailer, improving productivity and reducing labor costs," said Jacek Romanski, Marketing Manager for Duo-Fast Construction. "It features a Locator Probe which allows the worker to quickly and easily locate the hole on the metal hardware. It is faster and more user friendly than other competitive tools that use nails as their locator."
The DF150S-TC is a very durable tool, built for the professional contractor to withstand jobsite abuse with less moving parts and a high quality aluminum housing. The tool was designed primarily for contractors focused on building single and multi-family homes.
Other features include a steel rafter hook, adjustable air exhaust, cushion grip and a four nail lockout to prevent dry firing.
The Tico Nailer is at its best when used with Duo-Fast paper tape collated Tico nails. As a system, they improve drive performance, prolong tool life and reduce down time. The Duo-Fast 1-1/2" Tico nails are specially designed and heat-treated to reduce ricocheting and nail bending. Each nail is head marked for easy identification, and are available in .131 and .148 shank diameters - brite and galvanized. They are ICC-ES recognized under ER2126.
For more information visit www.duo-fastconstruction.com or call: 1-888-631-2020.