Simpson Strong-Tie Slope Beam and Multi-Axis Applications for Yield-Link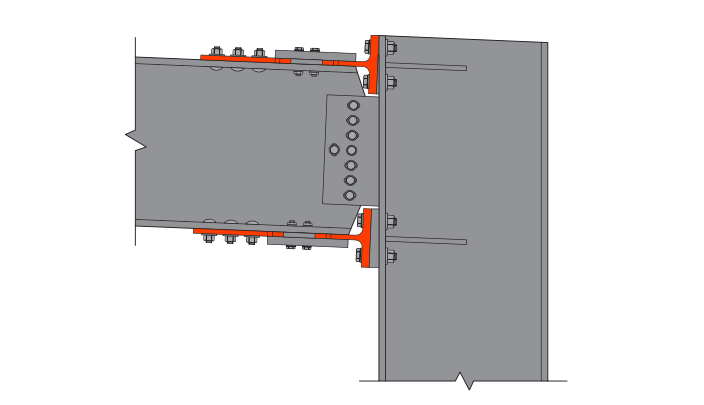 Simpson Strong-Tie, the leader in engineered structural connectors and building solutions, has introduced newly validated slope beam and multi-axis moment applications for its innovative Yield-Link moment connection for structural steel construction.
Designed to absorb forces in a seismic or high wind event, the Yield-Link moment connection requires no field welding and allows beams to be designed without supplemental lateral bracing. This means fewer fabricated steel elements and field connections are needed, which helps reduce onsite labor costs, licensing fees and construction time for contractors facing a critical shortage of skilled field welders.
Following extensive research and analysis, including the use of advanced non-linear finite element programs to validate Yield-Link moment connection performance, Simpson Strong-Tie engineers have developed two solutions utilizing the Yield-Link moment connection with sloped structural beams. At the roof level, structural steel beams are often sloped to accommodate drainage, and the new solutions provide greater design flexibility and streamlined field connections when using the Yield-Link in slope beam applications.
"Sloped beams are becoming increasingly common in commercial construction, particularly for one- and two-story commercial buildings," says Tim Ellis, market segment manager for structural steel at Simpson Strong-Tie. "We've put an incredible amount of engineering into two solutions for ensuring the Yield-Link moment connection maintains its strength and resiliency in sloped beam applications, which will help solve design challenges and provide additional options to builders in the field."
In addition to the slope beam applications, Simpson Strong-Tie also introduced solutions utilizing the Yield-Link for multi-axis moment connections. Designed for corner, three-sided, and four-sided column connections, Yield-Link multi-axis moment connection solutions provide a connection that resists moment demand in both directions of the column.
The new slope beam and multi-axis moment solutions for Yield-Link moment connections are available for viewing on the Simpson Strong-Tie website and is incorporated the new structural steel and Yield Link connection design guide. Simpson Strong-Tie also provides software plugins and design support services to help designers, fabricators and erectors integrate Yield-Link connections in their designs and shop details.
The Yield-Link moment connection is a prequalified connection for steel special moment frames in ANSI/AISC 358-16 and is code listed in ICC-ES ESR-2802.
For more information about Simpson Strong-Tie Yield-Link technology, visit strongtie.com/yieldlink.