Material Handling: Skid-Lift scissor lift attachments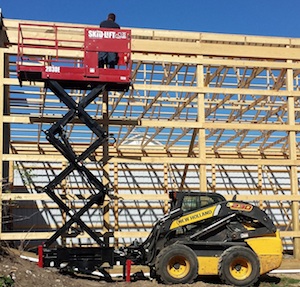 Skid-Lift announces the production of its scissor lift skid steer attachment for construction, maintenance, and agricultural industries.
The Skid-Lift is a powerful but easy-to-operate attachment that allows work crews to reach up to 27 feet in the air, with 4-degree tilt and a stable working platform in the air.
The company has teamed up with Norwood Sales of Horace, ND to handle distribution of its product which is available for sale now.
"We are excited to bring Skid-Lift to market. It represents years of design and engineering work that delivers convenience and a major cost savings to skid steer owners and rental stores," says Guy Nelson, President of Skid-Lift.
Skid-Lift works as an attachment for skid steers as well as tractors. The base legs of the Skid-Lift attachment are adjustable and allow professionals to work on all surfaces, including rough or uneven terrain.
"By eliminating expensive components, such as pumps, hydraulic drive motors, wheels, and batteries used on standalone scissor lifts, Skid-Lift provides a lower cost of entry and ownership," says Nelson.
"This unit will go anywhere my Bobcat will go. On our old unit, we had to lay down plywood to get anywhere with it on soft ground, what a pain," says Brad Johnson of Johnson Farms.

Skid-Lift Attachment Features
Two Models: Tilting and Non-Tilting

Hydraulic controls at the base and basket

Manual extension platform on tilting model

Overriding ground controls

Hydraulic safety bypass at the base and basket

Standard fork lift pockets

Tilt deck ± 4° on tilting model

Weight: 1700 – 2100 lbs.

Works any of type of surface

Optional side quick attach

Works with all skid steers with auxiliary hydraulics

Skid-Lift is committed to helping contractors, maintenance professionals, and farmers get jobs done safely. The company's flagship product attaches directly to a skidsteer or tractor, and uses the built-in hydraulics to raise and lower the lift. For more information, please visit http://skid-lift.com