Material Handling: Valley Craft EZ Cart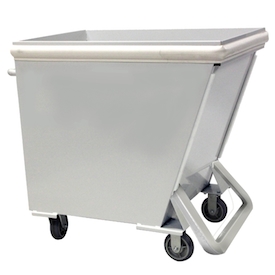 Valley Craft Industries, Inc. intgroduces the EZ Cart construction hopper. Designed and built with the quality and durability Valley Craft is known for, it can withstand years of use and be a staple at every work site.
The new EZ Cart construction hopper is welded with 16-gauge steel and yet lightweight and highly maneuverable on its 8" rubber casters.
Designed for interior finishing, the EZ Cart passes comfortably through a standard 3-0 door and rolls easily over cables, cords, and other small obstacles while the pliable bumper protects walls and doors from damage.
The strategically placed tilt knee and nylon lift strap make dumping a breeze. The carts are also stackable for ease of storage and transport.
Optional HDPE rub strips are available and units can be personalized with a company logo.
"The construction trades need products that they can count on. We are proud of this new offering and grateful to our beta site customers for helping us create products that meet the uncompromising demands of the Professionals we serve," said Dennis Campbell, President and CEO of Valley Craft Industries, Inc.
Valley Craft Industries, Inc., based in Lake City Minnesota, was founded in 1953 with the introduction of the first hand truck with a brake. A manufacturer of Professional Grade custom and proprietary products, Valley Craft Industries is known for its variety of rugged hand trucks, trailers, carts, drum handling devices, and storage solutions. Visit www.valleycraft.com for additional information.