Snap-on Williams Telescoping Magnetic Pick-up Tools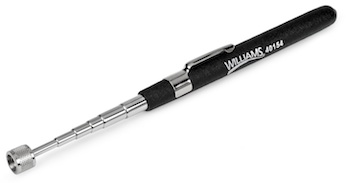 Snap-on Industrial is making the task of retrieving a dropped fastener or socket from a tight spot much easier, thanks to the new Williams telescoping magnetic pick up tools.
These handy tools use a stainless steel shaft to extend between 25 and 33 inches, giving technicians the extra reach to recover a dropped part.
They come with Powercap which effectively shields the sides of the magnetic from attaching to unwanted metal surfaces, and also a non-slip black cushion grip for secure handling.
Five models of the telescoping magnetic pick up tools are available:
JHW40151; 2-1/2 pound lift capacity; 6-5/8 inches in length; extends to 33-1/4 inches
JHW40152; 5 pound lift capacity; 7-1/4 inches in length; extends to 33-3/4 inches
JHW40153; 10 pound lift capacity; 8-1/4 inches in length; extends to 30-1/4 inches
JHW40154; 2-1/2 pound lift capacity; 5-1/2 inches in length; extends to 25-1/2 inches
JHW40155; 1-1/2 lift capacity; 5-5/8 inches in length; chrome shaft extends to 25-9/16 inches (does not have Powercap or black cushioned grip)
For more information on Williams telescoping magnetic pick up tools, call 800.466.7404, or visit www.snaponindustrialbrands.com/30/home.htm