Kreg KHC-MICRO Classic 2 Inch Face Clamp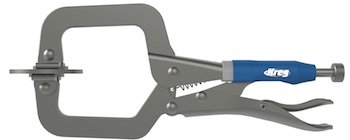 Kreg Tool Company continues to improve and expand its line of clamps with the all-new Classic 2-inch Face Clamp (Item# KHC-MICRO). This new clamp offers the features, versatility, and durability of Kreg's current Face Clamp, but is sized smaller for use in tighter spaces and by people who prefer a smaller clamp.
Plus, the Classic 2-inch Face Clamp is attractively priced below $15 (U.S.), making it an excellent value. The Classic 2-inch Face Clamp is perfect for:
Kreg Joinery
Project assembly
General clamping
Repairs and more
Clamp Features:
Swiveling pads
Locking jaws
2-inch reach, 2 1⁄4-inch capacity
Adjustable clamping force
Large, non-marring clamp face
Works with Kreg Jig R3 Clamp Pad Adapter
In conjunction with the introduction of the Classic 2" Face Clamp, Kreg is renaming the Kreg Face Clamp (Item# KHC-PREMIUM). This clamp will now be known as the Classic 3" Face Clamp. The Classic 3" Face Clamp is similar to the new 2" version, but offers larger reach and capacity, two extra-large clamp faces, and padded grips on both handles. The 3" Classic Face Clamp carries an MSRP of $22.99.
For more information, visit www.kregtool.com or call 800-447-8638.