Solopol GFX Heavy-Duty Foaming Hand Cleanser with Grit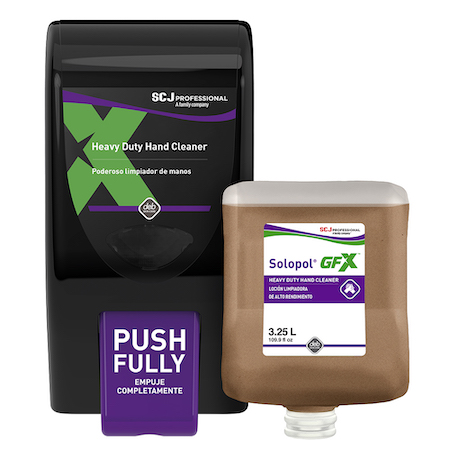 SC Johnson Professional's Solopol GFX is the world's only heavy-duty foaming hand cleanser with grit. Consistently called the best hand cleaner for grease removal by those who use it, Solopol GFX transforms heavy-duty hand cleaning liquid into a rich, cream foam that washes away quickly and completely.
With the ability to out-clean traditional heavy-duty cleaners while using half as much product, Solopol GFX provides up to 42 percent more hand washes per liter due to its unique foam format.
The cleanser is also environmentally responsible due to its natural, non-abrasive and biodegradable use of cornmeal and olive pit as scrubbing agents, and is the only heavy-duty hand cleaner to have USDA BioPreferred, UL EcoLogo and Green Seal certifications.
For more information about SC Johnson Professional's Solopol GFX hand cleaner, visit https://www.debgroup.com/us/products/solopol-gfx.