Stabila LAR 160 G Rotating GreenBeam Laser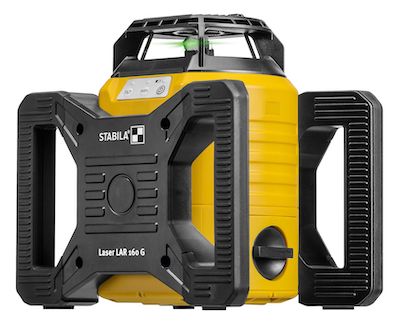 Stabila rotation lasers are an indispensable tool for every trade in construction thanks to their high level of accuracy and extensive working areas. The new LAR 160 G rotation laser is a robust and reliable companion in any kind of work, from wood, steel and metal construction to carpentry, landscape gardening and bricklaying.
Fully automatic and motor-driven, the laser produces a leveling accuracy of +/- 1/8" @ 100 ft. and is ready to use within 20 seconds, thanks to its rapid self-leveling function.
Convenient operation
The laser boasts four functions: horizontal rotation, vertical rotation, plumb-line function and right angle in vertical operation, making it extremely versatile to use. In combination with the REC 160 RG set receiver, it offers a working area of up to 1800 feet in diameter. The receiver has a receiving area from a height of 3 inches, making it possible to work over long distances. Visual and acoustic guidance, front and rear displays, and one-touch illumination are additional design features which facilitate the interaction between laser and receiver.
Convenience has also been given top priority when it comes to operation. The laser is controlled with just three buttons – on/off, tilt mode and manual mode. The assistance system, which makes it possible to monitor the laser visually, also ensures convenient and safe operation: while the laser is being positioned, integrated LEDs emit a warning if it is outside of the leveling range. Two 5/8" threads integrated in the housing allow horizontal and vertical use on a tripod.
The LAR 160 G rotation laser is protected against knocks and impacts thanks to the shock absorbent Stabila soft grip casing, while a sturdy housing cover protects the laser optics against everyday rough handling on the construction site. It goes without saying that the laser also features protection class IP 65 – dust and water impervious.
GreenBeam Technology
The LAR 160 G rotation laser is equipped with Stabila GreenBeam technology. This ensures improved indoor visibility, with crisp green beams that are four times more visible to the human eye than red beams. As a result, the LAR 160 G is an outstanding partner for the whole spectrum of interior construction jobs, from drywall construction to installation work.
The Stabila LAR 160 G is powered with long-life batteries. An integrated battery drawer makes changing them more convenient as it allows this to be done directly on the tripod. A powerful Li-ion rechargeable battery is also available as an option.

The laser is available in two versions:
#04500 – LAR 160 G Rotation Full Set – Comes with rotation laser, REC 160 RG receiver with clamp, BST-S construction tripod, Hi/Lo elevation rod, target plate, manual, batteries and hard case. This retails for $849.00 (US) / $1,099.00 (CAN)
#04510 - LAR 160 G Rotation Laser Kit – Comes with rotation laser, REC 160 RG receiver with clamp, manual, batteries and hard case. This retails for $749.00 (US) / $999.00 (CAN)
Further information is available at www.stabila.com