Lasers: Site Pro SLR300H Self-Leveling Rotary Laser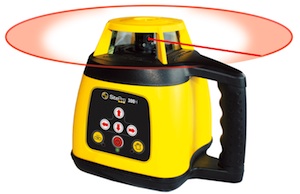 Dave White's SitePro introduces an electronic self-leveling rotary lasers big in performance, simple leveling with precision and durability – the New SLR300H Self-Leveling Rotary Laser.
The SLR300H is fully electronic with accuracy up to 1/8-in at 100-ft (3mm at 30m) and working range up to 1000-ft (300m) diameter. Self leveling range is up to +/- 5° with built-in sensor to indicate out-of-level condition and ensure accuracy.
For simple grade jobs, the SLR300H is equipped with dual manual slope capability up to +/- 8.77% in both axis'. Smart H.I. alert system alerts user when laser has been moved or disturbed from its self leveling position. Enclosed rotor housing keeps laser beacon safe from all elements (IP54) and provides protection for tough jobsite conditions. The SLR300H is ideal for exterior applications with single 650nm laser beam.
The SLR300H is powered with four 'C' alkaline batteries. Kit includes the RD300 laser detector with clamp, alkaline battery tray, batteries, and carrying case.